In this new online world, customer relationship management (CRM) is a must for functioning businesses. Good CRM software will help organize and manage customer-business interactions and better ensure your company's success. When it comes to the best CRM software providers, HubSpot and Salesforce often rank neck and neck at the top of the list.
Both platforms provide highly valuable CRM services but go about this differently. Salesforce offers a comprehensive, customizable CRM-oriented experience. In contrast, HubSpot offers a variety of marketing and sales services with a free CRM option built-in.
If you're trying to decide on the CRM software best for your business, it'll be helpful to break down the key components of both HubSpot and Salesforce and make some comparisons. Let's take a look at the key differences between the platforms.
Key Services
HubSpot: HubSpot's services are divided into a few main software packages, including Marketing Hub,
Sales Hub, Service Hub, and the all-new Operations Hub. Basic CRM tools and some other basic features from each of these packages can all be accessed for free. A free subscription offers contact management, website activity monitoring, customer prospecting, email tracking, and more. It also includes basic analytics reports.
HubSpot's paid packages gain access to more comprehensive analytics charts and CRM features. Upgrades mainly within the Sales and Marketing Hubs can expand analytics. A Professional Plan membership increases a multitude of services, including reporting capabilities. For additional fees, you can also purchase custom dashboards and reports best suited to your businesses' analytics needs.
Salesforce: Salesforce, on the other hand, builds upon CRM capabilities and analytics in a more centralized manner. The software, originally developed from a sales standpoint with the aim of increasing sales growth, usually caters to sales teams. Like HubSpot, subscription packages are categorized by focus, through their Sales, Services, Marketing, and Commerce Clouds. Analytics pricing is also separate but combines reporting of whatever Cloud subscriptions you have.
This makes for some more robust features, but also might require a more comprehensive team on the part of the business. The more intricate customizations a business opts for, CRM focus might become more time-laden.
Differing CRM Approaches and Opportunities
Ultimately, it can be helpful to think of these differences between HubSpot and Salesforce as differences in approach. While HubSpot offers CRM as one piece of the inbound marketing puzzle, Salesforce's software is centralized around CRM. HubSpot drives sales and business growth from a variety of different angles, while Salesforce is a CRM-driven software.
The scale of services also speaks to the type of businesses each platform is better suited for. With a free subscription option, HubSpot might be a great option for businesses new to CRM. If your goal is to simply dip your feet in the water and explore CRM services for the first time, HubSpot's free subscription is a low-risk starting point. Of course, HubSpot still offers an array of add-ons and expansion opportunities. Packages are typically compartmentalized into Sales, Marketing, Services, and Operations Hub, but still, allow for adaptability and combination.
Salesforce comprehensibility offers many opportunities for expansion. In many ways, the Salesforce platform offers more in-depth CRM possibilities, with far more add-ons and integrations than HubSpot. Its tendency to grow increasingly intricate, however, might call for more financial and staffing responsibilities than some small and medium-sized businesses have to spare. For businesses with limited bandwidth, Salesforce's far-reaching add-ons can become overwhelming or simply unnecessary.
Pricing
The pricing packages of each platform reflect these suitabilities as well. HubSpot once again wins on the accessibility front when it comes to pricing. With both annual and monthly billing options, HubSpot offers a wider range of commitment and payment opportunities. Again, monthly billing might allure businesses new to CRM, as it gives the opportunity to test out opportunities for business growth without the year-long price commitment.
Salesforce, on the other hand, typically bills only on an annual basis. While they list monthly pricing breakdowns on their website for all of their subscriptions, almost all of these subscriptions are billed upfront for all 12 months. This inherently creates a higher level of commitment, as it does not allow for businesses to scope out the effectiveness of their subscriptions before paying for a full year. Aside from their 30-day free trial, there's no way to tell whether your business will benefit from specific add-ons unless you pay for them for a whole year.
Take a look at the comparison below provided by Technology Advice on the free version comparison for HubSpot and Salesforce.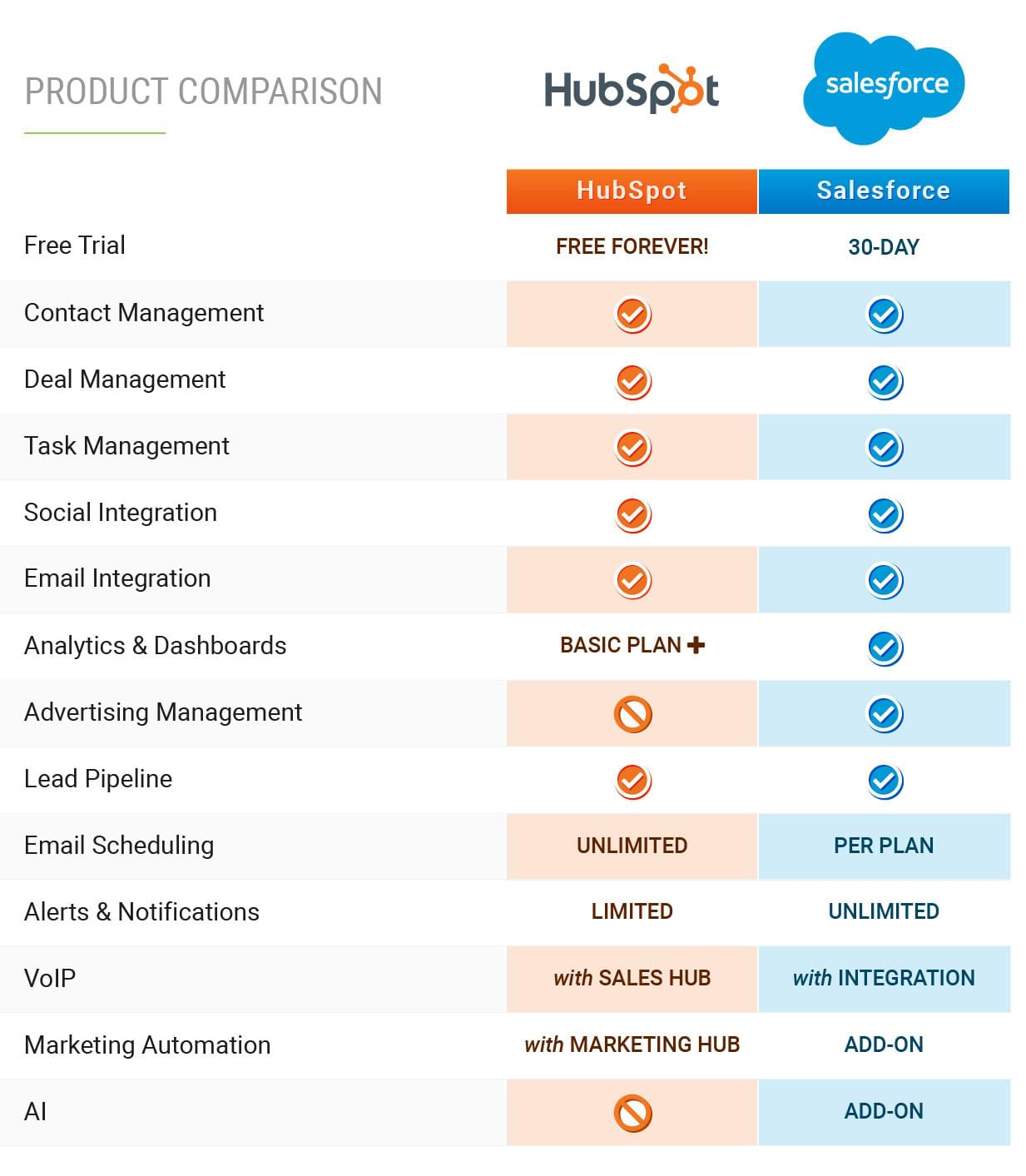 A Trend in Switches to Hubspot
Taking the differences between HubSpot and Salesforce into account, it's not a huge surprise that inbound marketing has seen a recent trend in businesses switching to HubSpot. Especially for small and medium-sized businesses, HubSpot seems to offer more support on the insular level. While it may not provide as many comprehensive CRM expansions as salesforce, it provides the internal structure needed for teams to drive sales and client growth.
HubSpot's price points also cater to businesses with a more limited budget. With an everlasting free trial and monthly subscription billing, those new to CRM or looking to explore new expansion opportunities can do so with lower upfront investment.
When it comes to add-ons and expansion packages, Salesforce definitely offers more. This, however, means that add-ons can quickly add up in cost. HubSpot might have fewer package deals, but this also means that it has fewer hidden costs. For the most part, HubSpot's packages tend to include more services upfront, whereas Salesforce often requires increasing additional investment when a business moves to further customize their CRM platform.
With increasing awareness of this trend in switching software, HubSpot created a guided plan intended to make it easier to switch platforms without consuming excess time and money. HubSpot's migration guide features five phases intended to make the switch as smooth as possible.
Summary of Strong Points and Weak Points
Upon comparing HubSpot and Salesforce, it's clear that each platform has its strong points and weak points.
Let's look at a summary of where HubSpot and Salesforce each shine, along with some new mentions of additional strong suits:
Easy Learning Curve - Winner: HubSpot
When it comes to learning the software, HubSpot certainly has a smaller learning curve. Many Salesforce users report having to spend far longer amounts of time to become acquainted with the intricacy of the platform. HubSpot claims that a lot of their new converts from Salesforce are looking to "Operate in 'minutes and hours' instead of 'days and weeks'".
Comprehensive Tech Support - Winner: Salesforce
While Salesforce's steep learning curve might be time-consuming, they compensate with customer service. All subscriptions include full-time tech support via phone and chat. In contrast, free Hubspot subscribers must rely on a discussion board for troubleshooting, and paid tech support is not available in as many languages as Salesforce.
Integration - Winner: Salesforce
Salesforce and HubSpot both offer integration opportunities. Salesforce, however, is well known for offering the highest level of integration and customization out there. Salesforce definitely provides not only higher integration, but more opportunities for extremely detailed analytics and customization.
Support for Sales and Marketing Teams - Winner: HubSpot
While HubSpot might offer a bit less intricacy, its user-friendliness and streamlined package deals often provide more support–and breed less confusion–than Salesforce. Sales and marketing teams often report a stronger feeling of internal support from HubSpot, where the focus is to make customer relationships easier and more organized for businesses.
Automations - Winner: Hubspot
Another feature not previously mentioned is HubSpot's unique automation features. HubSpot is often thought of as the leading provider in marketing automation, so if automation is of high interest for your business, it's worth checking out the platform.
SMB Friendly - Winner: HubSpot
With more accessible pricing and navigation, HubSpot ranks higher in its accommodations for small and medium-sized businesses. While Salesforce also has its own small business package, it does not cater to budget and bandwidth needs as much as HubSpot.
Illustration courtesy of BizProspex.
Combining Platforms
With such variations in CRM services, there's no reason why you have to always pick one or the other. Combining the features of both HubSpot and Salesforce platforms is always an option. Many businesses with Salesforce CRM subscriptions also opt for HubSpot Marketing subscriptions. Salesforce's opportunities for customization easily make it possible to incorporate specific HubSpot packages into your business plan, especially to supplement areas where Salesforce is lacking.
For our clients, HubSpot is much more than a one-stop shop, it's a path to empowerment and growth. Want to learn more about your company making the switch from Salesforce to HubSpot? Let's chat.