InboundAV

Ahead of the Rest
InboundAV separates itself from the pack of other HubSpot partners with our expertise across all HubSpot products. As a business solutions agency, we're here to help you thrive in the areas of service, operations, sales, and CMS, not just marketing. With any of our HubSpot packages, you're receiving more than isolated deliverables; with our packages you're provided with long-lasting quality support and education to help your business fluid across all departments.
We're here to help you grow and utilize this platform as a tool to find solutions to any challenges your business encounters.
What to expect
Our approach as a HubSpot Platinum Partner is to make the most out of your HubSpot experience in every aspect. As with all platforms of this nature, your goals will never be realized to their full potential without a solid plan. At InboundAV, your HubSpot experience begins before you're even officially onboarded with HubSpot; your custom tailored plan is set as a foundation from the very start.
The Plan
Before onboarding, our HubSpot experts work with you to define how the platform can best benefit your business. We'll devise a plan to determine which HubSpot subscriptions, integrations, workflows, and strategies are paramount to achieving your business' goals. We position you for long-term success from the outset.
Hubspot Onboarding - Implementation and Training
Onboarding with the HubSpot platform is an overwhelming and daunting task overall. As Hubspot Platinum partners, we ensure a seamless and efficient onboarding process. We not only speed up your acclimation to the platform, but we also ensure that your business has a strong foundational understanding of its capabilities.

These are some of the onboarding related experiences your business receives from Inbound AV and our experts:
Optimal setup of HubSpot subscriptions and integrations
Creation, management, and automation pipelines
Custom reporting
Managed and strategized workflows
Comprehensive training from our HubSpot experts
To know more about the onboarding process and beyond, take a look at our complete list of HubSpot services:
Hubspot Training and Coaching
Introductory
We'll teach you how to navigate and use HubSpot at a foundational level, with one of our experts designing you and your business a custom roadmap to success.
Hubspot Implementation and Onboarding
Intermediate
A more thorough exploration of HubSpot and what works for your business, our team will work with you to create, and implement, a tailored onboarding strategy designed for optimum efficiency and success.
Hubspot Strategy and Consulting
Advanced
Our experts will help you at every step of your business' journey towards realizing its goals. From planning to execution, we're here to find the solutions to your problems, no matter how big or challenging they may be.
Added Bonuses
Working with a Certified Platinum HubSpot Partner has its unique set of benefits.

When utilizing InboundAV's expertise as a Certified Platinum Partner, you can expect the following:
Access to InboundAV's personal HubSpot consultants and representatives.
HubSpot experts for every "Hub".
Savings on HubSpot Subscriptions.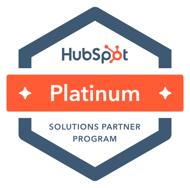 Ready to try out HubSpot?
As
HubSpot Solutions partners
, we can provide support to our clients every step of the way.
Book a meeting or send us a message. Let's talk Hubspot.