The Power of Personalization: How ActiveCampaign's Predictive and Conditional Content Can Boost Customer Engagement
How powerful is sending the right message to the right person? By now, we know that sending a generic email and hoping for the best just doesn't cut it. Customers expect personalized, relevant content that speaks directly to their needs and interests. This is where ActiveCampaign's Predictive and Conditional Content features come in.

By personalizing email content at the individual level, businesses can see higher engagement rates as customers are more likely to click and convert. But it's not just about engagement, these features take the guesswork out of customer engagement by predicting the best content for each customer. With segmentation and personalization tags already in place, Predictive and Conditional Content options provide even more information about the best way to communicate and connect with customers. In this blog, we'll dive deeper into these powerful tools and explore how they can help businesses truly understand and level with their customers.
What is Predictive Content in ActiveCampaign? How do you use it?
Predictive Content leverages natural language processing to turn your segmented emails into a powerful marketing engine that delivers individualized experiences to each customer. Simply write up to five variants of content, load them into your email template, and let ActiveCampaign do the rest. By analyzing how your contacts engage with your emails, the tool is able to determine what tone and style each contact prefers, and sends them the email variant that they are most likely to click on.

To enable Predictive Content, refer to the right hand column on the classic email designer titled "Insert"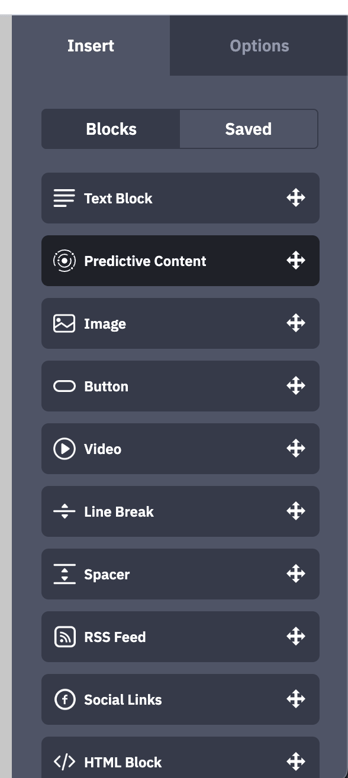 After selecting predictive content, drag the content block to where you want it in the email.

You can then add up to 5 email variations by clicking "add variation" in the top right.
Next, finish your email design, and send! ActiveCampaign's machine learning will work the rest of the magic.
Note: The Predictive Content block is available on Pro and Enterprise plans and can be easily added to your email campaigns using drag and drop.
Why use Predictive Content?
In addition to segmenting email lists and personalizing messages with tags, Predictive Content can uniquely craft messages for each individual. Every one of your contacts has unique preferences that are specific to them. Contact A may like dogs, while Contact B likes cats. The Predictive Content block in the campaign builder gives you the ability to write multiple messages targeted to the likes of all of your contacts.

Predictive Content enables you to achieve this level of personalization by using machine learning to determine which content each contact is most likely to engage with. By analyzing past interactions from each contact, Predictive Content is able to deliver highly targeted messages that are more likely to be read, clicked, and acted upon.

One of the key benefits of Predictive Content is that it allows you to create multiple variants of your email content within a single content block. This means you can create different versions of your message that are tailored to specific audience segments, based on their preferences and past interactions. For example, you could create variants that highlight different product features, or that emphasize different benefits of your service. By doing so, you can improve the relevance of your emails and increase engagement rates. Here are 5 examples of variant styles that you can use:
Concise and to the point

Personalized and lengthier

Informational and strategic

Sales-Forward messaging to create urgency

General blanket message to any audience
What is Conditional Content? How to Use it?
As mentioned, there are numerous effective methods to develop content that resonates with people's interests, browsing behavior, and purchasing history. Personalization tags and custom fields can be used to create campaigns that truly reflect your contacts' interests. One of the most potent ways to leverage the use of customer data, including tags and custom fields, is to address your contacts directly through conditional content.

Conditional content is similar to predictive content in the sense that it allows for multiple variations of content to be segmented to different contacts based on their unique preferences. However, conditional content does not use machine learning to select which content gets delivered to contacts. Instead, conditional content allows you to manually create multiple audiences within campaigns and email automations. This comes in handy in scenarios in which you plan to send the same campaigns to a large audience, but within that audience, certain contacts will require select details or variations.

For example, if we want to send specific promotional information about different products based on the products that contacts have purchased in the past, we could do so using the tags directly related to those products:

Another example is if we need to send specific content related to the closest location of our business for each contact, we can use their zip code information to be as precise as possible:
Conditional content can be incorporated via ActiveCampaign's email designer. By hovering over any content block, a gear will appear.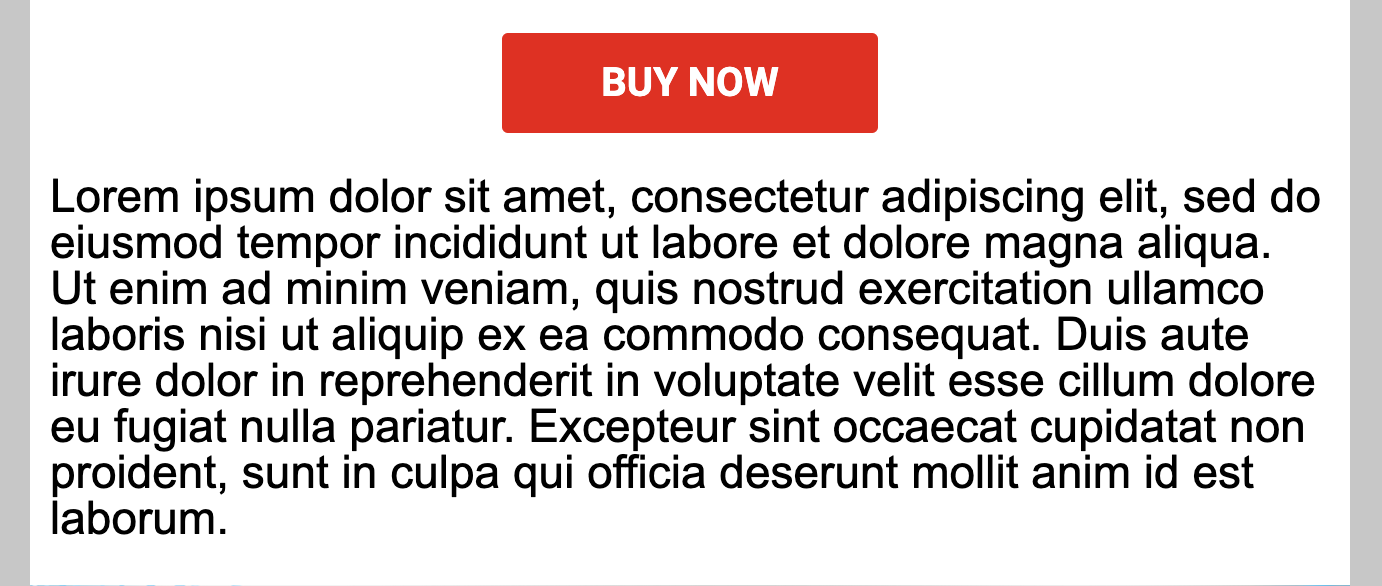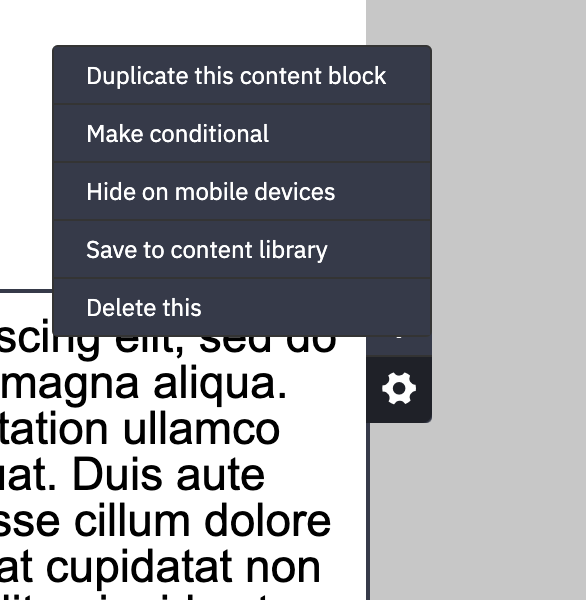 Simply hover over the gear and click "Make conditional".

Conditional content is managed using Custom fields and Tags that have already been set for the account and then using them as the conditions when working into the campaign's designer view.

But conditional content is not limited to email's designer view. It can also be used when working on automations, which is very helpful when we need to have a lot of options/versions of the same email: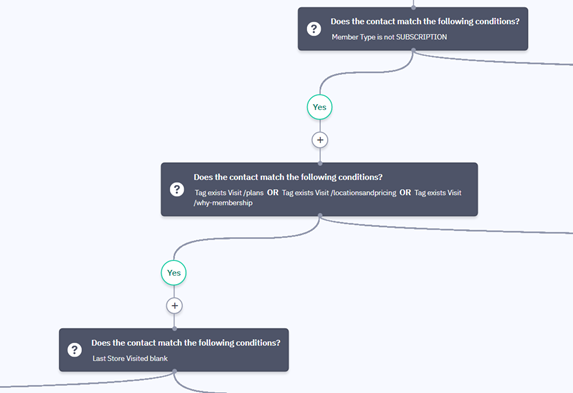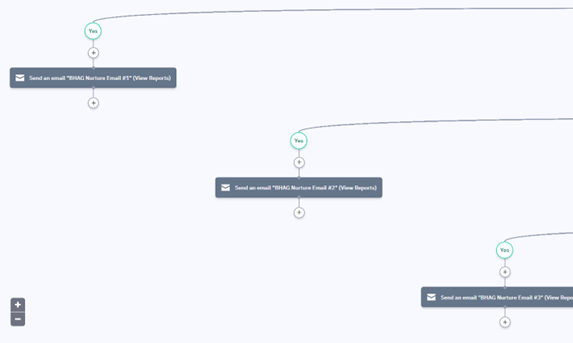 Conditional content makes for just one of many reasons why the more contact information you can have on ActiveCampaign, the better. Detailed lists, custom fields, and tags on ActiveCampaign can lead to a better customer experience down the road using tools like conditional content.
Why Conditional Content?
By leveraging conditional content, you can provide a more personalized experience for your contacts, which can lead to higher engagement rates and better results. It can also be a time-saver in scenarios in which you don't want to create an entirely new campaign or automation branch just to send different select details to certain contacts. Employing conditional content allows you to use just 1 newsletter while still catering to the select details you have for different contacts. Whether you're creating a standalone email or a larger automation sequence, conditional content is a valuable tool to have in your marketing arsenal.
Predictive vs. Conditional content
For now, Predictive Content is only available with the Classic Designer. It will, however, be available in the Email Designer (launched 2022), just like Conditional Content.

Using custom data and machine learning, ActiveCampaign's Predictive and Conditional content features allow businesses to deliver targeted and personalized email content to each individual customer, based on their behavior and preferences. Not only does this increase the likelihood of engagement and conversion, but it also helps build stronger relationships between businesses and their customers.
InboundAV understands that every customer deserves a unique experience. Our solid track record and team of experts makes us the perfect team to help your business strategically use ActiveCampaign's features, giving your customers the best message they can easily relate and connect with. InboundAV offers a range of ActiveCampaign services, including implementation, management, consulting, and integration—all of which can help your business maximize the benefits of the platform. By partnering with InboundAV, you can strengthen your relationships with customers, increase efficiency, and ultimately achieve your marketing and sales objectives.