HubSpot CMS vs. WordPress - Which CMS is Right for You?
By fueling the look, function, and overall user experience (UX) of your website, the content management system (CMS) you choose determines the face of your business. Today, we're breaking down HubSpot CMS and WordPress, two competitive CMS platforms. Each platform offers different strengths and weaknesses and choosing the right CMS for you will ultimately depend on your business needs and what features are most necessary for your website.
Core Differences
While HubSpot and WordPress both offer CMS capabilities, the platforms at their core have key differences that are important to keep in mind.
Originally astounding the market with breakthrough approaches to inbound marketing, HubSpot still stands as a marketing platform first, with its CMS Hub as an add-on software option.
In contrast, WordPress is through and through a CMS company. The platform does offer plugins and integrations that allow for certain CRM and marketing functions but will likely not be able to answer all your online marketing needs.
Website Performance
Website performance is the first and possibly the most important factor most people will consider when deciding on a CMS. Luckily, both HubSpot and WordPress deliver high-performance websites.
With website load time playing a key determining factor in bounce rates, a website that loads slowly or does not respond effectively is a major red flag. To answer this, HubSpot and WordPress both provide users with the ability to track and manage their website performance. Notably, both platforms hit the mark above other popular CMS options when it comes to managing performance. However, each platform goes about this differently.
HubSpot CMS provides performance tracking as a built-in function within their software, making it accessible from the get-go, while the same function on WordPress requires a plugin installation.
Additionally, HubSpot CMS includes automatic speed optimization, making it easier even for those who are not experts in web development to manage the general performance of their website.
Speed optimization on WordPress is not automatic. But the WordPress speed optimization plugin does allow for a bit more intricacy and nuance, with the ability to customize the optimization of specific pages.
So, the question of site performance between the two platforms largely comes down to a user's comfort level with web development, along with their expectations for website performance. Are you looking to cut down on manual labor by automating performance audits? If so, HubSpot might win in the website performance category. On the contrary, do you prefer to dive into the backend of website performance and speed, optimizing each web page to your liking? This ability marks a win for WordPress.
User Friendliness
Ease of use when it comes to page design and build will also make an impact on your CMS preference. Both HubSpot CMS and WordPress are well known for their accessibility in terms of providing free troubleshooting and educational material about their platforms online. Therefore, if you ever encounter confusion with either platform, you can typically enjoy easy access to information that will help you navigate your problem.
When it comes to building and laying out pages, HubSpot CMS shines in its straightforward nature and preview functions. Users can enjoy easily customizing pages largely without the need for code. Additionally, the in-page editor allows you to make instant changes such as text placement and even style elements with the click of the button.
Photo by HubSpot
WordPress also provides a wide array of different design options with downloadable themes, some of which are free and some paid. The flexibility of themes varies, so sometimes it might take some testing to find the one that best suits your website. If you can't find the theme that you're looking for, there's also the option of custom-coding your themes and plugins. Of course, this requires an additional level of web development expertise, so most businesses will need the help of a professional developer for this sort of customization.
Another benefit of HubSpot CMS's design and layout options comes with the ease of text placement and editing. Both platforms make it easy to add text to pages, but one complaint with WordPress is that creating visually appealing content layouts can be more of a process because you will likely need to load an additional template. With HubSpot, creating dynamic text-based layouts and blogs will take less time.
Coding Languages
This brings us to another big difference between the two CMS platforms. HubSpot and WordPress utilize different coding languages, which might influence your decision in a CMS platform. HubSpot CMS utilizes HubSpot's internally developed HubL, while WordPress uses standard PHP coding language.
Because PHP is a much more common coding language, if your business works with in-house developers, they may need to learn HubL if you are new to HubSpot.
SEO
Search Engine Optimization (SEO) marks yet another key factor that can make or break the success of your website. Stellar SEO capabilities can make a huge impact on the ranking of your website in search results and ultimately determine your volume of site traffic.
HubSpot makes SEO efforts easy by including automated SEO recommendations in-house. This function allows users to access SEO tools on every web page, blog page, and landing page without the need to integrate an external plugin.
WordPress, on the other hand, does not provide any native SEO aids. You can, however, choose from a wide variety of plugins to get the job done, some free and some paid. This allows you to choose how much you want to invest in SEO. If basic SEO functionality is enough for you, a free plugin might be able to get the job done.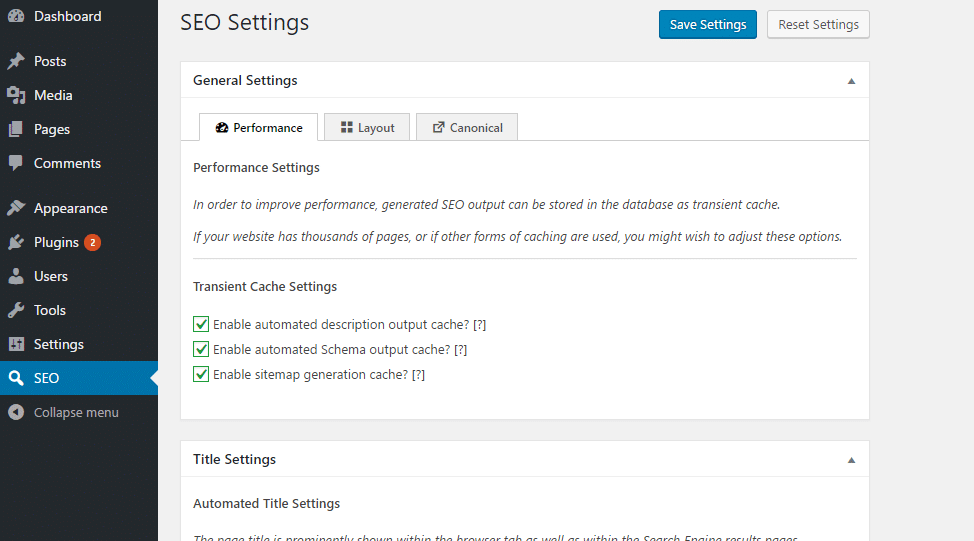 Photo by Create and Code
Analytics and Data
Reporting on HubSpot CMS versus WordPress functions similarly to the platform's respective SEO capabilities.
HubSpot includes an extensive amount of reporting resources in-house, including performance reports, ROI data, and more. WordPress also includes several in-house reports, such as page views, bounce rates, and other general traffic measurements.
Photo by HubSpot
Unfortunately, unlike HubSpot CMS, WordPress does not offer the ability to create customized data funnels directly through the platform. Because of this, most businesses will end up using an additional analytics platform, such as Google Analytics, for deeper analysis.
Connecting Sales and Marketing
HubSpot CMS's reporting capabilities also translate to the rest of the platform's CRM capabilities. Since HubSpot CMS is directly integrated with all the other hubs, you can enjoy seamless linkage of your CMS with the rest of your online marketing efforts.
So, if HubSpot is already your go-to marketing tool, or you are planning on utilizing HubSpot for its CRM capabilities anytime soon, it's probably worthwhile to go ahead and utilize the platform's CMS Hub as well.
Security
With internet security becoming an increasingly difficult issue to tackle, HubSpot and WordPress both do so rather differently.
With a HubSpot CMS subscription, users enjoy included in-house security functions from HubSpot. HubSpot CMS's security package includes:
Standard SSL certificate,
web application firewall (WAF)
24/7 security & threat monitoring
With built-in security measures, you won't rack up additional costs for security with HubSpot CMS.
As open-source software, WordPress's core platform is ensured as relatively secure. However, managing the security of a website can become largely the responsibility of an individual user, as additional plugins will inherently impact the security of a site. Since a WordPress site will typically incorporate a variety of plugins when it reaches a certain intricacy, it is almost unavoidable that you will have to keep tabs on on-site security with WordPress. Additional security plugins are typically the best option for this, most of which are paid.
Cost
Both HubSpot and WordPress offer affordable CMS options, with pricing increasing when you opt for more features and functions. However, HubSpot and WordPress differ in cost.
HubSpot CMS Hub comes at three separate price points, with its Starter package ($25/month), Professional package ($400/month), and Enterprise package ($1200/month).
WordPress, on the other hand, has a free subscription option. However, hosting a professional-level website on WordPress will almost always require additional costs. You can expect to pay extra monthly subscription costs for hosting platforms, plugins, security, and maintenance, which can range from low budget to thousands per month depending on your needs. All in all, even with free access to core website management tools via WordPress, a low-end yearly estimate for total WordPress costs can get up into the thousands, as opposed to HubSpot CMS's starter package coming in at $300/year.
See comprehensive estimated yearly costs for both HubSpot CMS Hub and WordPress, here.
Making the Switch From WordPress to HubSpot
Has learning more about HubSpot CMS Hub sparked your interest in switching from WordPress to HubSpot? If you are ready to make the switch, Inbound AV can guide you through this process.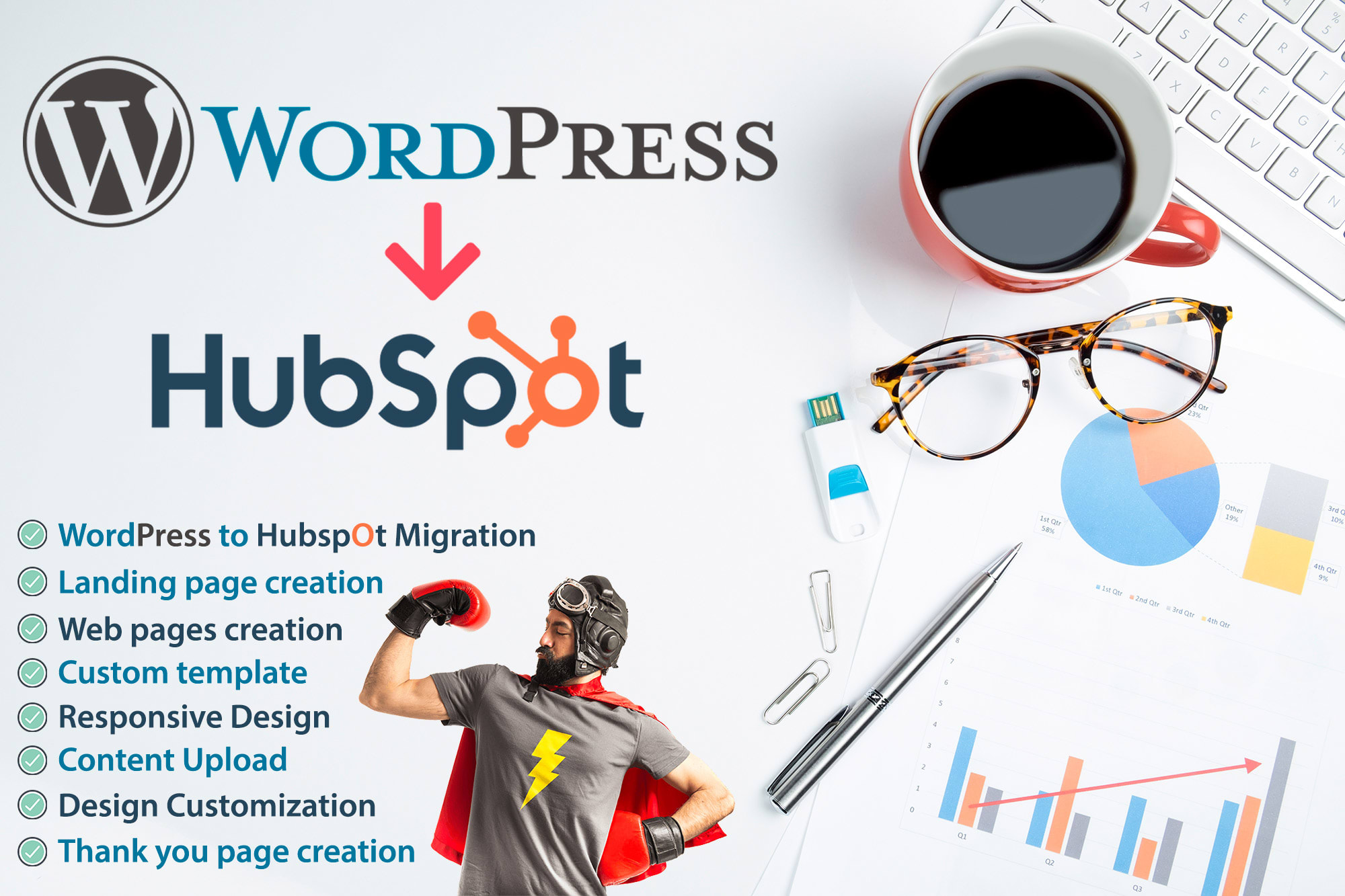 Photo taken from Fiverr
Switching to HubSpot CMS from any other platform is a good opportunity to evaluate what you need from your new website. Rather than simply copy and pasting your old website from its prior platform, Inbound AV will help you create a game plan on how to get the most out of HubSpot CMS.
Are you interested in the opportunities provided by HubSpot CMS, but not ready to transfer over your entire site? The good news is that HubSpot also offers the option to create micro websites with its CMS Hub. With micro websites, your marketing team can create websites with key marketing initiatives, with the same integration opportunities to other HubSpot Hubs.
Ready to Build Your Website?
Have you found the right CMS for you in either HubSpot or WordPress? Whatever CMS platform you choose, Inbound AV is happy to help you build your website. Our team of inbound marketing experts includes designers, developers, and strategists who are well-versed in both HubSpot and WordPress.
Still, have more questions about which CMS is right for you? We're here to help. Schedule an appointment with our team for a free consultation.