Why Your Business Needs HubSpot Operations Hub
Every day businesses of all sizes struggle with the demands of an interconnected marketing technology (Martech) stack. Innovative organizations depend on a group of brave, overworked, and underappreciated marketing operations professionals to keep a set of disconnected applications working together.

In a perfect world, every marketing automation platform will have clean data. These applications talk together without the need for developers, and they would have an easy-to-use solution to store and analyze large datasets. It might seem like a pipe dream, but marketing operations pros need to keep their organizations humming.
Fortunately, a single, interconnected solution is available, the HubSpot Marketing Operations Hub. Let's dive into this subject in more detail.
The Top 5 Challenges Facing Marketing Operations Professionals
Marketing technology keeps your lead generation and customer acquisition campaigns working smoothly, and a talented marketing ops team manages dozens of interconnected applications. Like most operations jobs, their role is essential for the business, but because they are a tactical team, their contributions are often overlooked by management. We have identified five challenges marketing operations professionals face on a day-to-day basis.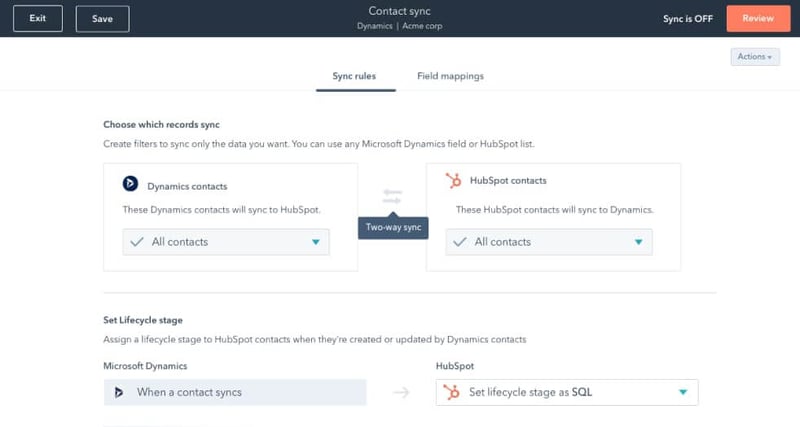 1 - Incorrect Data
Data integrity is a universal challenge for marketing ops pros. Customer data is often incomplete and inaccurate, requiring marketing teams to review and clean data on an ongoing basis. CRMs are filled with leads that don't respond to emails, move to new organizations, or simply provide false information.
2 - High Lead Volume
Keeping customer data clean is another challenge for the marketing ops professional, especially if the lead gen program generates high volumes of leads. This data-intensive operation requires automation and artificial intelligence to identify inaccurate records and fix data without human intervention.
3 - Disconnected Applications
Thousands of marketing and sales applications are available to automate and manage your internal processes. While HubSpot includes many native features, there are specialized functions not contained in the platform. One example is the online collaboration tool, Zoom. Without two-way data synchronization, marketers must manually import webinar registrants.
4 -Inefficient Processes
It is common for many organizations to use spreadsheets and databases to manage processes outside of their CRM environment. In some cases, these legacy practices exist because that is the way things were done. In other cases, a key employee prefers a specific tool and resists changing to a more centralized application.
5 - Lack of Data Insights
Using a complex sales and marketing tech stack helps organizations run more efficiently by automating key processes but lack the ability to analyze and report on business results. Every tool reports on its own feature sets, but there isn't a cohesive way to roll up reports into a central business intelligence system. To resolve this problem, operation managers need to use external analytical tools to generate the reports for their executive teams.
How Operations Hub Solves Business Challenges
HubSpot provides a centralized revenue operations hub to solve the challenges facing sales and marketing teams. Operations Hub simplifies the data management and integration challenges for the other hubs (sales, marketing, service, and CMS) with a set of easy-to-use tools. There are several core functions in Operations Hub. We've identified the price level required to access the functionality in parentheses.
Application Integration (Free+)
Before Operations Hub, connecting multiple technologies with HubSpot meant hiring developers to develop custom APIs or using tools like Zapier to connect applications. While these options often solve problems, HubSpot users clamored for hassle-free connections. The HubSpot Operations Hub now delivers two-way integrations with over 90 applications (and growing) at no additional cost. All applications are built by HubSpot and meet strict security and quality standards.
Data Mapping (Starter +)
Importing and integrating data requires marketing operations pros to match data types and fields with HubSpot properties. With Operations Hub, HubSpot artificial intelligence automatically maps data properties based on names and property types. This feature saves a lot of time when doing complex migration projects.
Data Quality Automation (Pro+)
Effective inbound marketing programs generate a constant stream of leads and often the data provided is not formatted for use in email marketing and reporting. The automatic data cleansing feature in Operations Hub automates the process of updating text and data formats such as capitalization, dates, and titles. This Pro-level feature removes the burden of manually reviewing and fixing data in the CRM.
Programmable Automation (Pro+)
The HubSpot workflows tool provides many powerful features to automate the sales and marketing functions, however, sometimes there are certain processes that can't be done with the out-of-the-box workflow tool. Operations Hub supports the use of javascript or Python to execute custom routines within the workflows tool.

Some of the use cases include syncing contacts with other HubSpot portals, formatting international phone numbers, rotating leads, and enriching contact data with external data.
Datasets (Enterprise)
As your company grows the need to analyze and report on data also increases. Sometimes the sheer amount of data is overwhelming for operations professionals as they need to sort through a myriad of properties, objects, and transactions. HubSpot Operations Hub Enterprise creates datasets that organize data into digestible tables. Datasets organize and rename data for use in creating reports and dashboards. You can also calculate formulas such as date differences, time in pipeline stages, and sales commissions.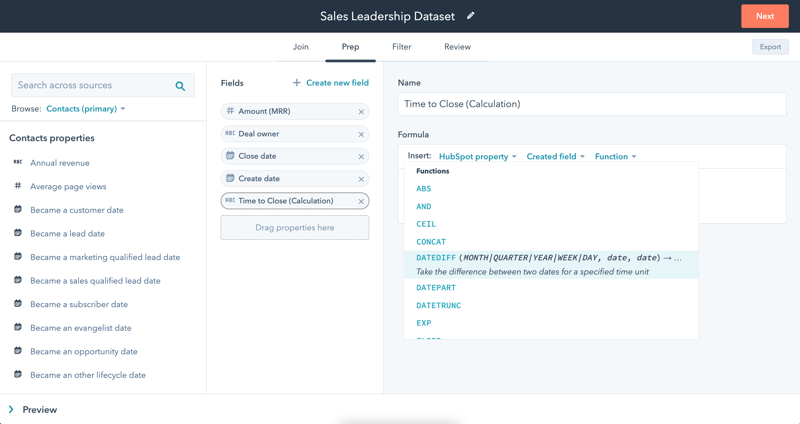 Operations Hub Adds Horsepower to Sales and Marketing Hubs
HubSpot is a great platform for managing and automating the sales and marketing process. The Operations Hub provides the extra horsepower your system needs to improve productivity through automation, integrate with third-party applications, and manage the data requirements for improved reporting. To learn more about HubSpot Operations Hub, contact Inbound AV.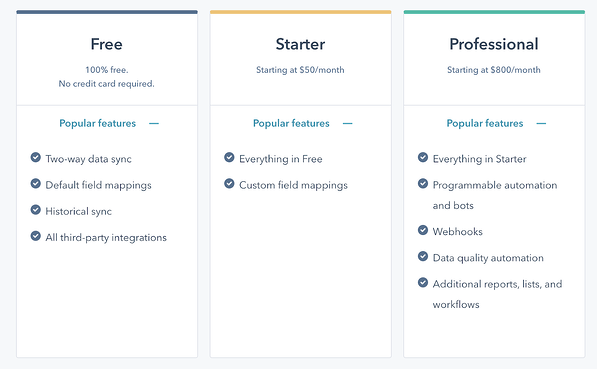 About Inbound AV: HubSpot's Platinum-tiered Partner
Inbound AV is a full-service digital marketing agency and HubSpot Platinum Partner. We help growing businesses develop game-changing strategies and the automated processes needed to help you scale. As a HubSpot partner, we provide a full range of services to support your operations team, including custom integrations, automated workflows, onboarding, training, and ongoing support services.
Contact Inbound AV to schedule a free HubSpot consultation.