Migrating from Pardot to HubSpot Marketing Hub
The HubSpot CRM platform is becoming the gold standard for marketing automation platforms for B2B and B2C marketing. As an integrated solution, HubSpot allows marketers more flexibility and ease of use compared to one-point email marketing solutions like Pardot and Marketo. Many businesses are realizing the benefits of using a customer relationship management (CRM) tool integrated with sales, marketing, and customer service applications.

The migration from one platform to the other can be tedious and painful if not implemented properly. That's why it is essential to develop a migration plan and use the change as an excuse for updating internal practices and processes. It's also important to know when to engage a HubSpot Solution Partner to manage the migration process.
7 Reasons for Migrating from Pardot to HubSpot
Pardot is a competent mid-market marketing automation solution and includes workflows, landing pages, forms, and email marketing tools. While Pardot can store contacts, it is not a standalone CRM and requires a two-way sync with Salesforce.com or another CRM tool. Since the primary focus is on email marketing, users need to turn to third-party applications to manage social media posts, digital advertising, websites, blog posts, and other tools to manage inbound and account-based marketing campaigns.

The HubSpot CRM Platform provides a suite of applications built on top of a CRM eliminating the need for two-way syncs and managing a complex tech stack.
1 - Ease-of-Use
The HubSpot Marketing Hub provides an easy-to-use interface to build and manage landig pages, websites, and email campaigns. The drag-and-drop interface does not require knowledge of HTML or CSS and includes a library of pre-built modules. If you don't see what you like, the HubSpot Marketplace provides themes and templates to choose from.
2 - Tighter Integration with CRM
HubSpot Marketing Hub uses the built-in CRM to store contacts and record activities including phone calls, meetings, and email threads. This tight interaction provides direct attribution from the time the lead was created to when the sale is closed.
3 - Improved Reporting
HubSpot provides extensive pre-built analytics, reports, and dashboards that are customizable for all price levels. Every feature set includes reports and analytics to help you test and analyze your campaign results.
4 - Social Media Management
Modern digital marketers depend on multiple tools to manage advertising, social marketing, and organic social media programs. Keeping track and sharing data between apps is complicated and requires constant monitoring. HubSpot includes all the tools you need to create, post, monitor, and report on your social campaigns.
5 - Conversational Marketing
When is the best time to connect with a potential buyer? When they are visiting your website. Therefore conversational marketing is universally accepted to communicate with website visitors when they are far along in the buying process. HubSpot includes features like live chat, ai-based chatbots, and group inboxes to make it easy for inbound sales teams to engage with prospects. Pardot users must use third-party applications for the same functionality.
6 - Account-Based Marketing
Strategic account sales and account-based marketing (ABM) campaigns target your largest and most profitable accounts. ABM programs require different tools to identify key accounts and reach out to key buying teams. Pardot users need to rely on two-way integrations and third-party ABM tools to create these campaigns.
7 - Platform-Wide Automation
The power of tools like Pardot lies in their automation and artificial intelligence capabilities. These tools are great for creating multi-touch drip campaigns, but that is where the automation stops. To improve internal processes or create more advanced workflows, you need to use Salesforce and pricey development tools. With HubSpot, you can automate marketing, sales, and service activities with the powerful workflow tool.
Tips for a Smoother Pardot to HubSpot Marketing Hub Migration
Migrating from Pardot to HubSpot is like moving to a new home. Your present portal is warm and comfy but full of clutter and unused assets. The migration is a great excuse for spring cleaning and developing new marketing processes and best practices. We've compiled a few tips to ease the move.
Remove Clutter
After years of use and neglect, marketing automation systems often look like your mother's attic. Marketers and system administrators often use different naming conventions or have many unused email campaigns. Take the time to review and either archive or delete the unused assets instead of migrating, then cleaning. This process is critical if you are paying a third-party consultant to help with migration since these arrangements are based on the time it takes to complete the migration.
Take Inventory
Keep track of the landing pages, forms, and email templates you want to migrate to the new HubSpot portal, and keep track of any changes you need to make to design templates, domain names, and tracking links.
Update Processes
Many companies have rituals and processes passed down through the generations that don't always make sense. Many times, these processes were created using outdated business processes and kept alive by the fear of change. Use the migration as an excuse to review these practices and eliminate any unneeded workflows and reporting requirements.
Standardize Naming Conventions
Creating standard file and campaign naming conventions will help you manage your new HubSpot Marketing Hub portal. It's vital that your entire team agrees to use the naming convention and you enforce the new protocols. If your old Pardot campaigns do not conform, consider utilizing an archive folder and starting fresh.
Connect Third-Party Applications
By migrating to HubSpot, you will reduce the number of third-party applications required with Pardot. For certain tools like Zoom or GotoWebinar, HubSpot has free two-way syncs with many popular applications available in the HubSpot App Marketplace.
When to Work with a HubSpot Partner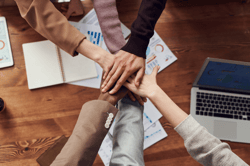 It is often difficult for an overworked marketing team to manage the Pardot to HubSpot migration while conducting ongoing marketing activities. Engaging a Certified HubSpot Solution partner will ensure your migration goes smoothly and your HubSpot platform is up and running as fast as possible. Solution partners also provide the required onboarding services and train administrators and users on the HubSpot platform and best practices.
About Inbound AV
Inbound AV is a full-service digital marketing agency and HubSpot Platinum Partner. We help growing businesses develop game-changing strategies and the automated processes needed to help you scale. As a HubSpot partner, we provide a full range of services to support your operations team, including custom integrations, automated workflows, onboarding, training, and ongoing support services.