HubSpot's Free Tools for Sales
"Knowing is not enough; we must apply. Wishing is not enough; we must do." -Johann Wolfgang Von Goethe.
There are many quotes and accepted principles in the field of professional selling. One famous saying is that sales are a numbers game. You need to generate leads, conversations, and opportunities to hit your sales goals. It is also well known that you need sales automation tools to get an edge over your competition. HubSpot is a platform of cloud-based software solutions to help you hit your goals. HubSpot also provides a complete set of free tools to help business leaders and professionals create a high-performance sales organization. These templates, guides, and wizards are effective (and free) tools you can use to build a successful business plan to set the sales process in motion.
Growth Grader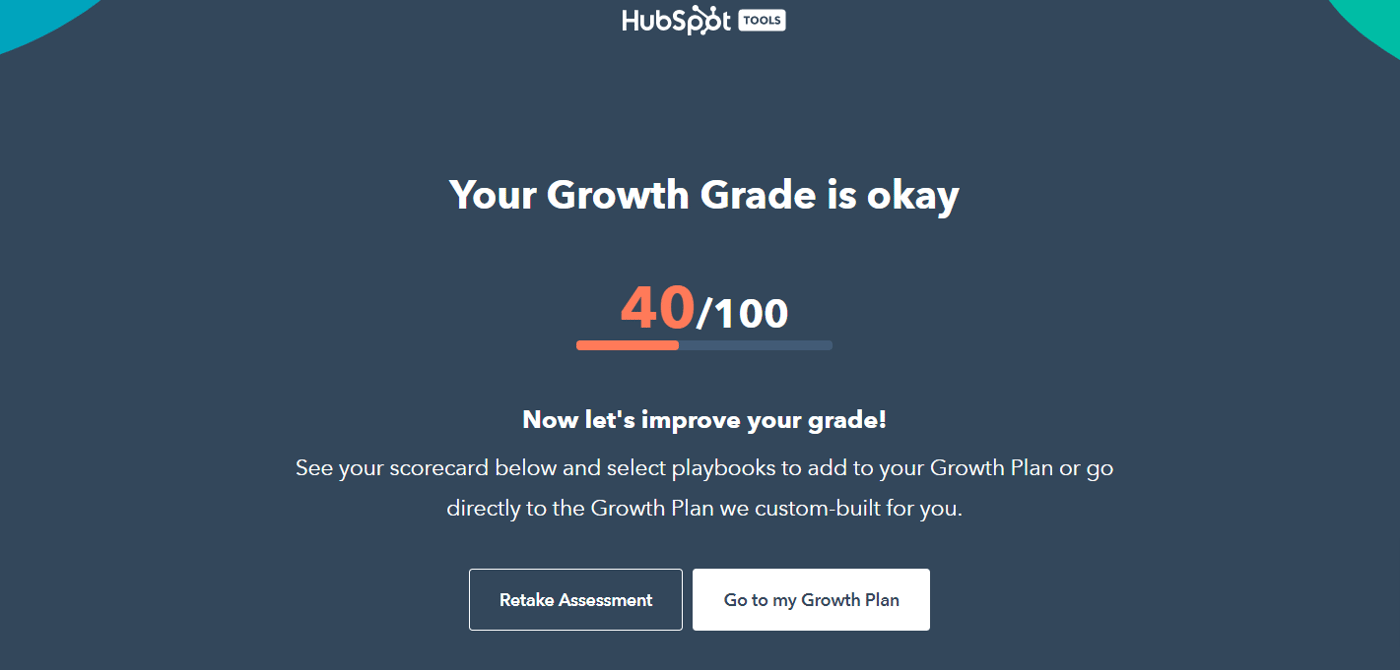 The HubSpot Growth Grader is a simple-to-use tool to evaluate your current sales and marketing plan (i.e., growth plan) and, based on your answers, provides recommendations to improve your results. The online tool steps you through the process and provides instant feedback, suggestions, and the outline for a plan.
Sales Metrics Calculator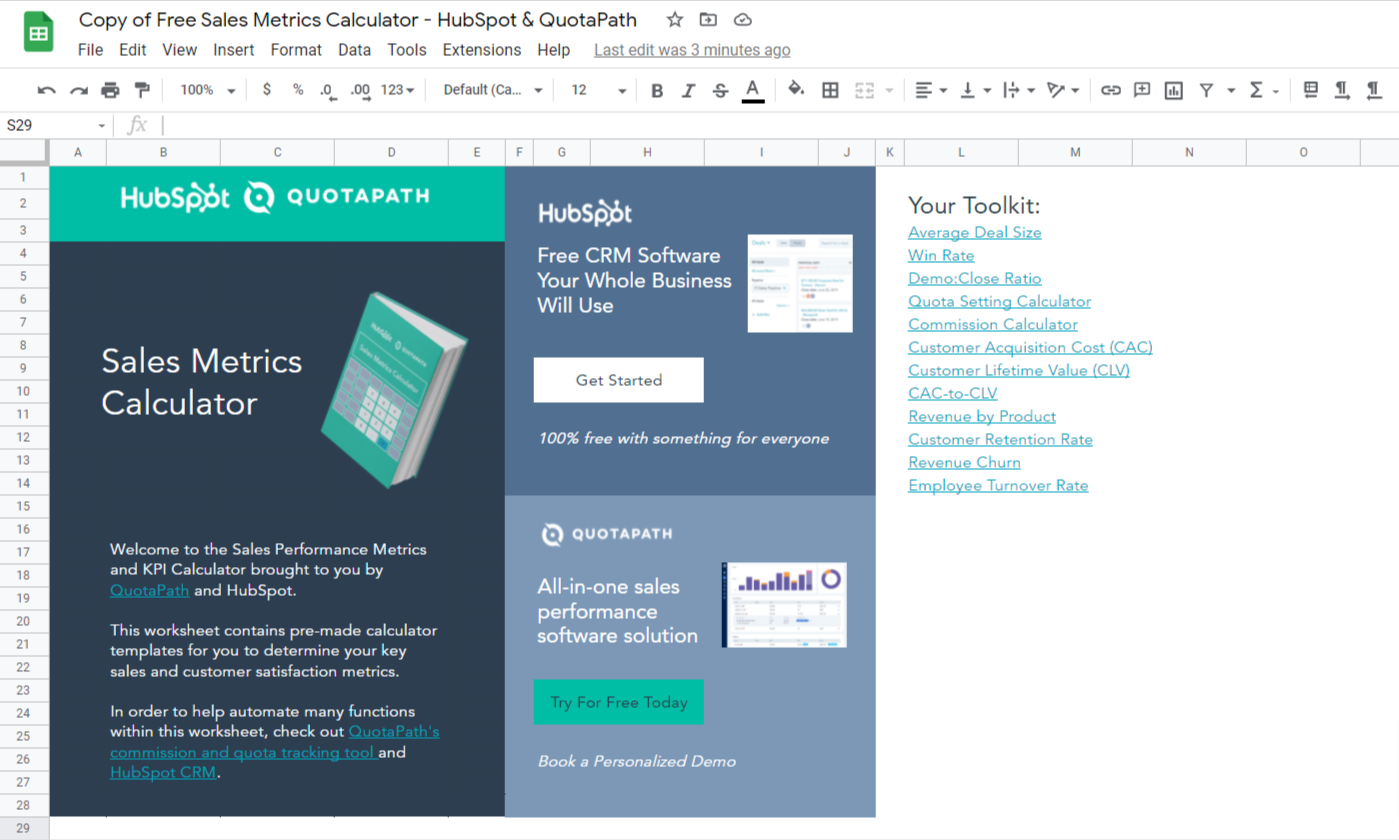 There is an industry saying that sales are all about the numbers. The Sales Metrics Calculator (developed by HubSpot and QuotaPath) is a Google sheet with pre-made calculators you can use to establish your key performance indicators (KPIs).
Here's a sample list of calculators:
Average Deal Size

Commission Calculator

Customer Lifetime Value (CLV)

Revenue by Product

Win Rate
Free Business Templates
Every entrepreneur needs a toolbox of handy items to run their business. HubSpot Free Business Templates are 80 pre-designed templates to simplify your life and make you more productive. Each template is a designer-approved document you can customize for your use. Templates are available in collections organized by business types. You can also find templates based on the file type, function, and collection.
100 Email Subject Lines We Actually Clicked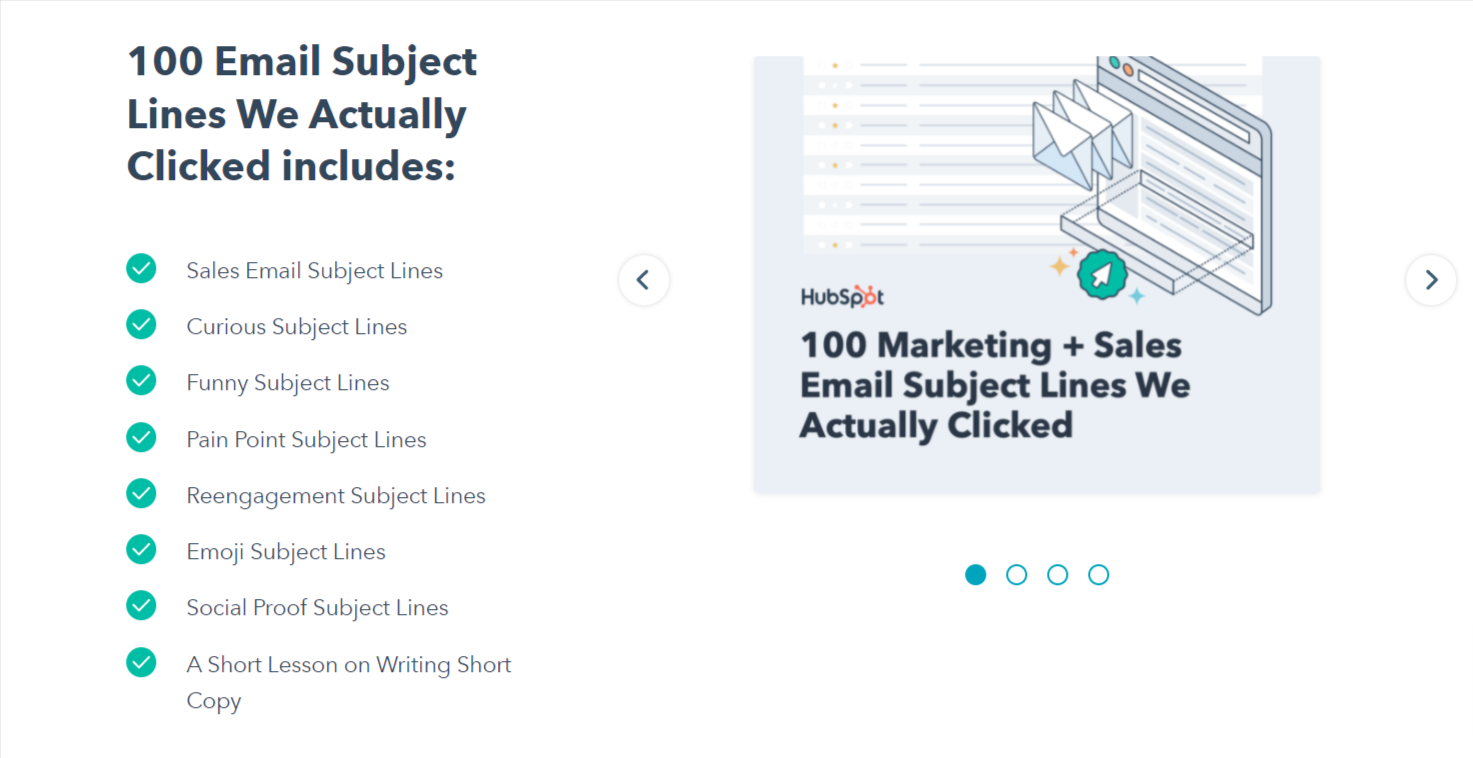 There's been a lot of buzz about the changing rules surrounding email open rates and how marketers need to focus on the email click rather than the open. One component of the email remains the same, the email subject line, which is the first, and often only, part of the email the recipient ever sees, so the subject line is a critical first step in the customer journey. HubSpot's 100 Email Subject Lines We Actually Clicked is an excellent resource if you hit that subject line writer's block. The 18-page PDF includes tips for writing effective subject lines, writing exercises, and of course, 100 subject line examples from leading high-tech businesses and brands.
2021 Sales Enablement Report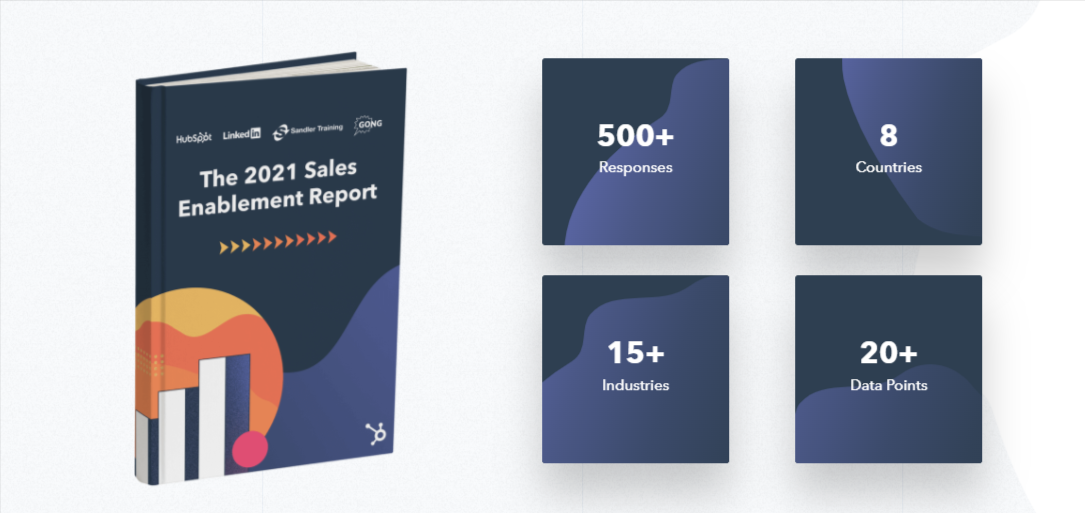 The last few years have been tough on sales leaders, many not meeting their quotas. The report looks at sales practices in 2020 and how organizations performed during the pandemic. In contrast, many companies beat their target goals, as many were not as successful. Learn from real life and find out what tactics worked during a challenging period. The HubSpot 2021 Sales Enablement Report studies the sales processes and strategies businesses use to succeed.
Free Sales Plan Template
Some reports state that 1-in-10 businesses fail—the 10% of companies that survive credit business planning to their success. The sales plan is the first step in building an organized and repeatable sales process, but many leaders struggle with creating the sales plan document. The HubSpot Free Sales Plan Template makes the sales planning process easy. The 42-page Word (or Google Doc) template provides everything you need to create an investor-quality document. There are pre-designed paragraphs for mission statements, leadership biographies, team structure, and sales processes. The plan includes essential training tools like buyer personas, competitive analysis, marketing strategies, goals, and action plans.
8 Elevator Pitch Templates
You're in an elevator, and somebody asks you to describe your product or service. What do you say? If you're not prepared for that scenario, the answer is, uh, I don't know. Preparing an elevator pitch is one tool experienced sales professionals use to answer this question. The HubSpot eBook, 8 Elevator Pitch Templates, provides you and your sales team with a cheat sheet to help you prepare your elevator pitch.
12 CRM-Ready Sales Email Templates To Send Today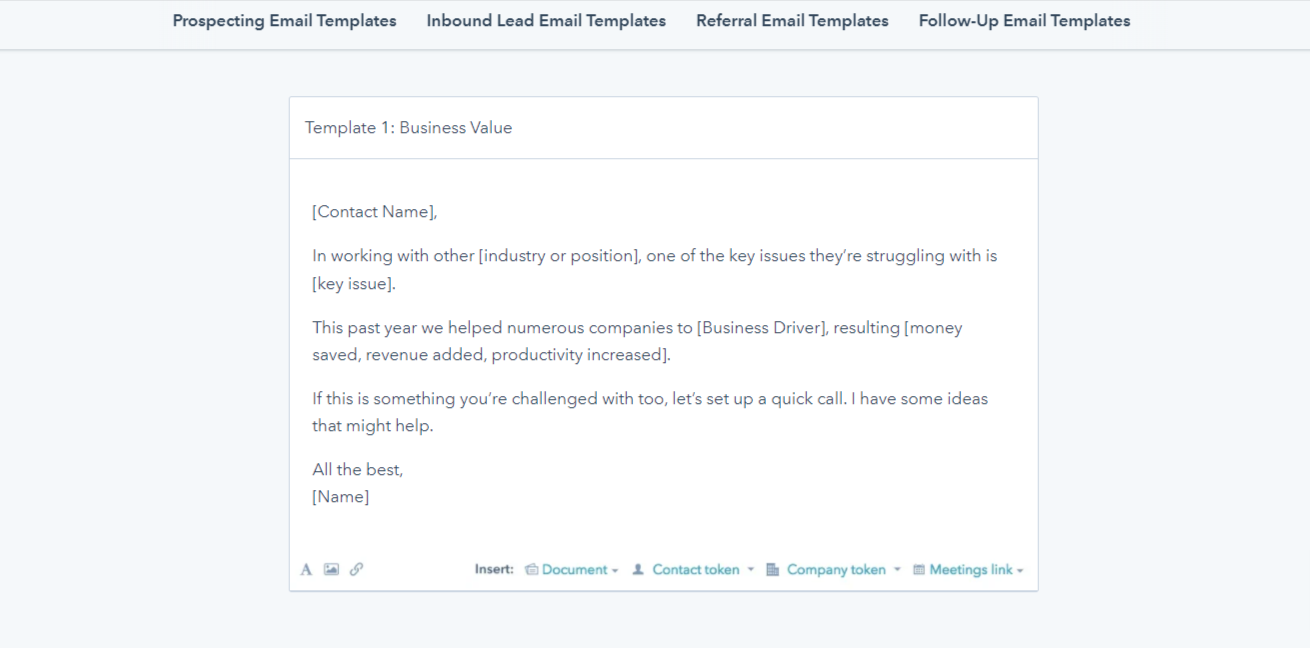 The HubSpot Sales Hub allows account executives and sales development professionals to automate their outbound email process. Email templates save users a ton of time by pre-writing the all-important emails they need to connect with their prospects. In 12 CRM-REady Sales Email Templates to Send Today, HubSpot offers the most popular templates recommended by industry-leading professionals.
HubSpot Sales Hub
Time is the enemy of sales. The longer the sales process takes, the less likely it is to close a deal. You'll close more deals by eliminating the friction in the sales process. Manual processes often contribute to a slower sales process. From setting an appointment to preparing a proposal, non-selling activities kill deals. HubSpot Sales Hub removes the friction in the selling process by automating many annoying and non-essential tasks. How many emails does it take to schedule an appointment? With HubSpot, the answer is one if you use the Google Calendar scheduling integration. How much time does it take to create a proposal? Some sales professionals will say hours, but it can take minutes with the HubSpot quote tool. How many touches does it take to contact a prospect? The rule-of-thumb is seven-to-ten times, but most salespeople stop after three attempts. Sales sequences automate the outreach process so you can generate more conversations and close more deals. To learn more about HubSpot Sales Hub, contact Inbound AV.
About Inbound AV
Inbound AV is a full-service digital marketing agency and HubSpot Platinum Partner. We help growing businesses develop game-changing strategies and the automated processes needed to help you scale. As a HubSpot partner, we provide a full range of services to support your operations team, including custom integrations, automated workflows, onboarding, training, and ongoing support services.