Business-to-business companies often have complex and sophisticated sales processes. A common approach of the past was to integrate different tools to help their sales teams generate personalized, complex sales proposals and quotations. What many sales leaders learned was that complex meant slow. If it took you days or weeks to create a proposal, you risked losing the deal to a competitor with a simpler, more agile approach. If you're a HubSpot user (or considering HubSpot), you have all the tools you need to build a simple, frictionless sales process.
Sales Hub's Configure, Product, and Quote (CPQ) software makes it easy for salespeople to access product information, build custom quotes, approve quotes electronically, and accept online payments in one streamlined process.


Why Do You Need CPQ Software?
Let's be clear; this article will not address eCommerce software or direct online sales. We're talking about the business-to-business sales process a sales representative or account manager has with a prospective customer. We're talking about the 'send me a quote' part of the sales process. The faster and easier it is for you to fulfill that request, the faster you will close deals and help your company grow.
CPQ software provides all the tools you need to create quotes, obtain approvals, and collect payments. Before CPQ software, salespeople made spreadsheet templates or used proposal software to create quote documents. These documents would be sent via email and required a physical signature to complete the agreement. Once the deal was signed, the vendor would send an invoice, and the customer would mail a hard-copy check. The simplest process could take days or even weeks. With the use of HubSpot Sales tools, the same process can be completed in minutes.
Benefits of CPQ Software
HubSpot Sales CPQ software provides all the sales tools you need to complete the deal in one integrated solution. The tools are easy to set up, customizable, and can be automated based on your sales process. Since the Sales Hub sits on top of the HubSpot CRM, all customer activities and data are tracked in one central location. Best of all, there is no need to spend money on custom integrations or worry about data being exchanged with a third-party software vendor. All HubSpot applications are fully integrated with the CRM. If you use HubSpot Marketing Hub to generate and track marketing leads, you'll have a complete view of the sales process from lead to deal.
Create a Product Library
The first step to setting up your CPQ process is to create a Product Library. Start by clicking on the Settings Icon and scrolling to Objects > Products in the Settings Menu.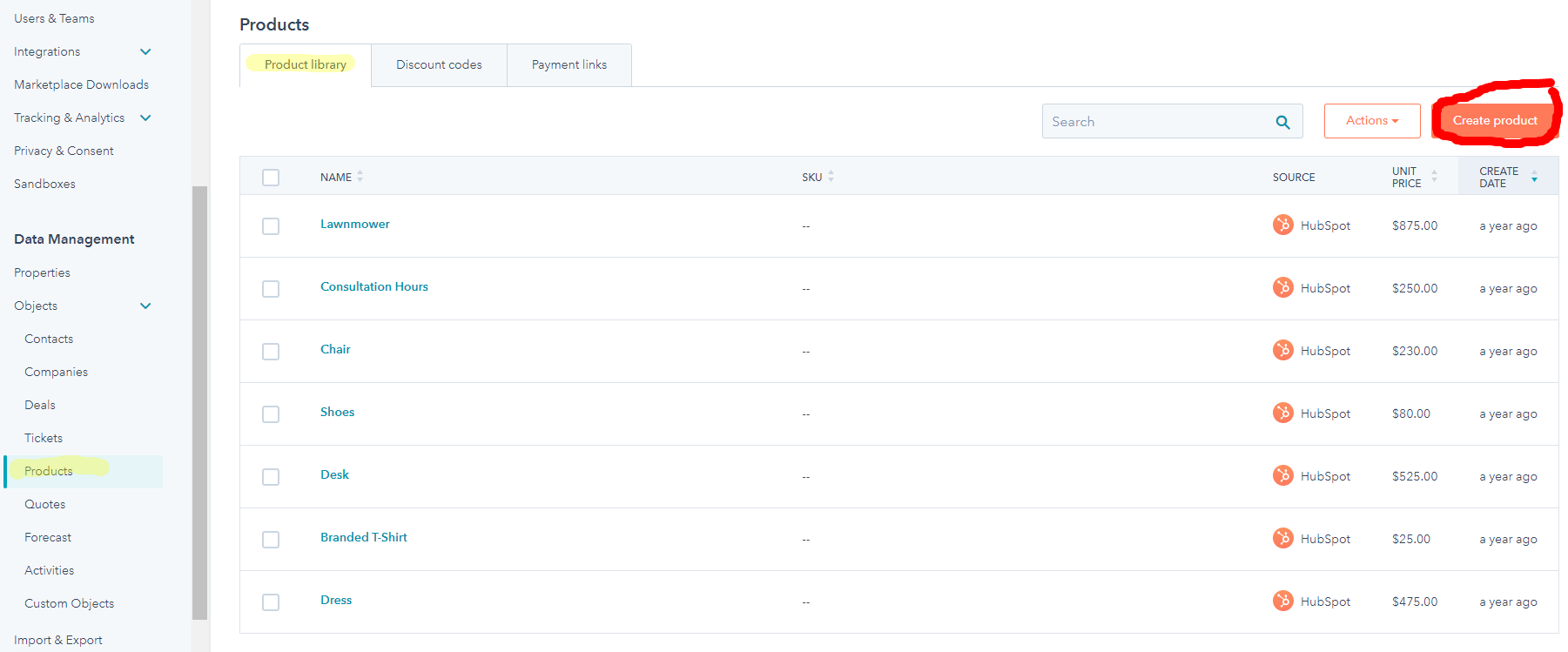 To create a single product, click on the Create Product button. If you have an existing product library, you can import the library via the Import process by clicking on the Action button and selecting Import.
The Create Product sidebar will appear, and you can enter the Product Description and Pricing information. When complete, click the Save button.
On the Payments set-up screen, there are two additional tabs. The Discount Code tab allows you to create discount codes for a specific amount. The Payment Link tab enables you to create a Payment Link you can send to your customer to collect payment. You can use HubSpot Payments (see more information below) or use a third-party payment platform.
The next step is to create your customized quote template.
Setting Up Quotes
There are five template options for creating proposals and quotes. The "Flow" templates help you set up a proposal-style quote with company details, narrative paragraphs, and terms & conditions text blocks. The simpler basic/modern/original templates are designed for one-page quotes. The template editor allows you to customize each section of the proposal/quote to meet your company's branding and messaging requirements. A HubSpot Solutions Partner like InboundAV will be able to create a custom quote template if you need graphic design assistance.
To set up your quote, start on the Settings Menu, select Quotes, and proceed to the Quote Template page. Select one of the five templates, and select the Choose button, which will take you to the template editing page. You can customize each template section and preview the changes when you are done. Remember to rename the template and Save your changes.
Signatures
For the quote, you can use a traditional signature or an e-signature (included with Sales Hub Pro+). If you select e-signature, the customer can approve the quote electronically without the need to print and scan a hard copy quote, which will speed up the sales process.
Every company has a different payment policy, but if your company wants a smooth, integrated experience, you can use HubSpot payments instead of a third-party invoicing or payment service.
Simply navigate to the Settings menu and select Payments. If you need to set up Payments, click on Guide (the second tab), and you will find several options available for you to select. You can also set up your HubSpot Payments account by entering your bank information. The Account Info tab allows you to verify your account information, and the General tab allows you to indicate the types of payments you will accept and set recurring payment reminders.
Payment Links
If you select Payment Links as an option, you will need to set up a payment link in the Quotes menu and send that link to your customer. You will be notified when the payment is made.
Creating a Quote from a Deal
Once you have finished all the set-up tasks, the best way to create a quote is to create a Deal and then select Quote on the right-side menu. You can create a quote from the Quotes menu, but you will need to have a Deal set up in advance.
To create the quote, you will need to add contact information, select the template, choose line items from your Product Library, and add contact information, discounts, and detailed notes. You will also need to add counter-signers from your organization and indicate the payment options (if you are not using HubSpot payments). Once you publish your quote, HubSpot will generate a tracking link you can insert into an email.
Streamlining the Sales Process
While it might seem too complicated to set up the quote templates and product library, creating and publishing a quote will only take a few minutes, saving your sales team considerable time and speeding up the sales process. HubSpot Sales CPQ features can be combined with automated workflows to streamline the process further. No matter how you use the HubSpot Sales tools, your team will benefit by closing more deals faster.
About InboundAV
InboundAV is a full-service business development agency and HubSpot Platinum Partner. We help growing businesses develop game-changing strategies and the automated processes needed to help you scale. As a HubSpot partner, we provide a full range of services to support your operations team, including custom integrations, automated workflows, onboarding, training, and ongoing support services.