HubSpot's Free Tools for Marketers
Everybody loves free stuff. From free samples at the supermarket to giveaways at tradeshows, people enjoy gifts, nicknacks, and even free advice. Once in a while free stuff offers value and helps marketing leaders make better decisions. Over a decade ago, HubSpot realized the value of offering free stuff to anybody interested in learning about the novel concept of inbound marketing. Now that HubSpot is a successful public company, they haven't forgotten their roots and continue to provide free tools and advice for anyone who is willing to learn. We've compiled a list of HubSpot's free tools for marketers as a public service.
Since Google provides the primary tool for finding your website on the internet, you need to have a site that will impress future customers and stands up to the competition in your market. The website is the centerpiece of your business and is often the only interface your customers have with your products or services. The Website Grader provides a fast and easy-to-understand tool to evaluate your site's health.
Google learned that people are impatient and want their websites to load fast and answer questions in a split section. Google relies on load times to measure speed, and if your images are too big or you're using a lot of bloated code, Google penalizes your rankings.
The HubSpot Website Grader looks at four crucial indicators; performance, SEO, mobile, and security.

In addition to the grade (on a scale of 100), HubSpot offers practical tips on solving problems. If you're a user of the HubSpot CMS (starter, Pro, or Enterprise), you won't have to worry about protecting your website or compressing images since HubSpot does that all for you. If you rely on other platforms, then you'll have to pay attention to plug-ins and extra code to help your website's technical performance
Business cards are obsolete for many businesspeople, so why not use HubSpot's Email Signature Generator to create a unique and memorable footnote to your emails? This tool provides templates and step-by-step forms to enter your data. You can even include multiple images and social media icons.
How to start a successful blog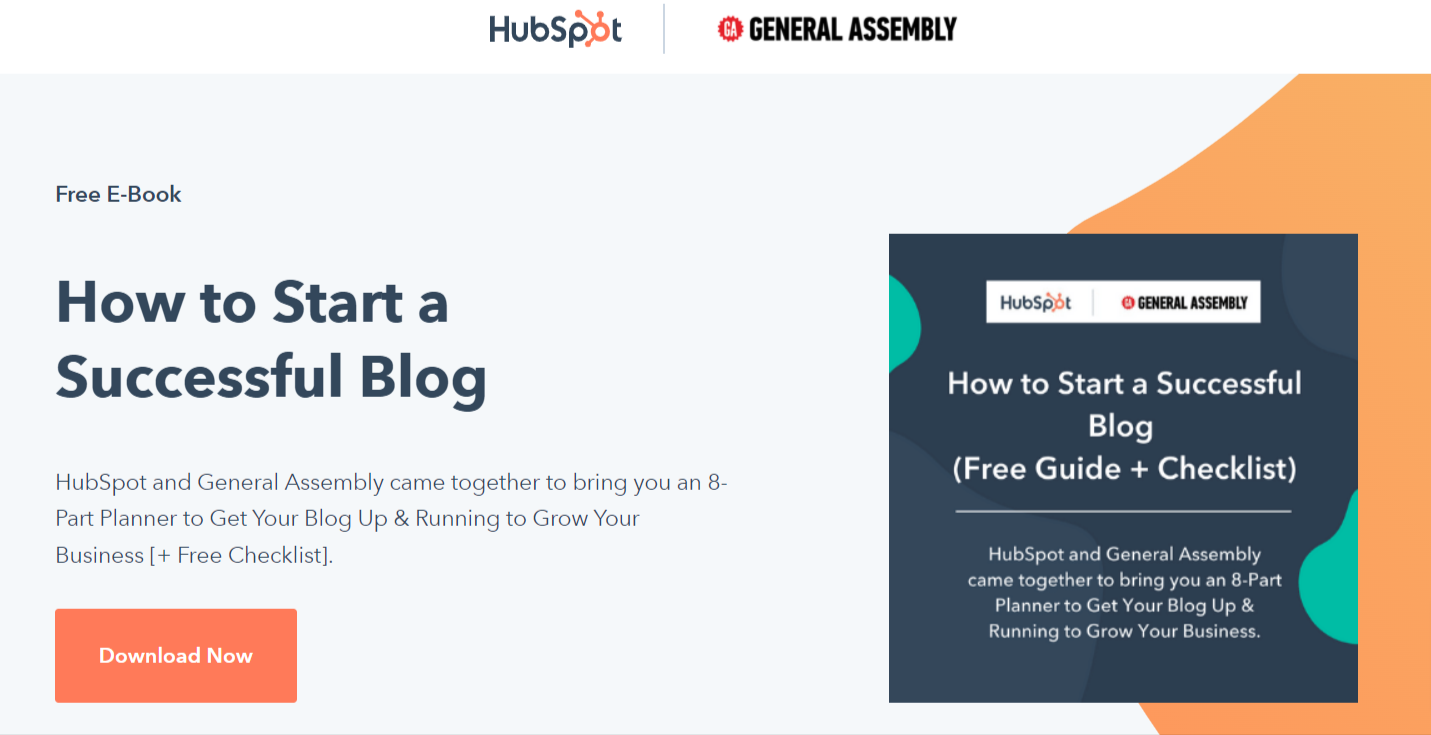 HubSpot recognizes that creating a successful blog is not an easy task. Sure, you can write a brief article and post it on your website, but try doing that every week for the next sixty months. Developing a blogging strategy and content development plan is one of the more challenging jobs in marketing and requires a long-term commitment of time and resources. HubSpot helps small business owners get off to a good start by providing practical tips and a helpful checklist for creating a content machine that will deliver website traffic and qualified leads for years to come.
Every blogger runs into writer's block from time to time, and HubSpot's Blog Idea Generator is a simple tool to help stimulate some ideas. Simply enter five nouns into the data entry box, and HubSpot automatically generates five ideas. Fill out an online form, and HubSpot will send you an entire year's worth of blog ideas.
Creating an effective marketing plan is one of the critical parts of the process. The HubSpot Marketing Plan Generator is a simple tool for creating a basic template. The online wizard walks you through the process and imparts some relevant wisdom. Complete the wizard, and you receive a formatted template and the ability to export a CSV file to use in Excel or Google Sheets.
The In-Depth Guide to Inbound Marketing Campaigns


This guide is required reading for any serious inbound marketer. This 60-page guide is a HubSpot Academy Certificate in a PDF and includes lots of practical advice and tips for generating leads through your website. The guide also provides case studies and examples of how other HubSpotters create high-performance inbound marketing programs.
Social Media Calendar Template
HubSpot includes an inclusive social media tool at the Marketing Pro level and higher. If you are not using HubSpot, they provide a great tool to organize your social media outreach. The HubSpot Social Media Calendar Template provides a set of Excel templates to schedule outbound LinkedIn, Facebook, Twitter, and Instagram posts.
How well do you know your customers? Creating a buyer persona helps you understand your best prospects by creating a semi-fictional character. The persona focuses your inbound marketing content on that key person in the buying process. For instance, you may have a Charlie the Corporate CEO persona and a Mary, the Modern Marketer persona. The emails and social messages you send to Charlie will differ from the messages you send to the Mary persona. To help you create these personas, HubSpot has an easy-to-use tool to guide you through the persona-making process.
It is often difficult for small business owners to know how their marketing campaigns perform since it is difficult to research their competition. HubSpot helps small companies by collecting industry benchmark data from over 103,000 customers. This data is compiled into a simple, interactive tool measuring results for several marketing activities, including email, social, paid advertising, and website traffic. The Industry Benchmark Guide is a great tool to reference when creating annual goals and marketing plans.
The HubSpot SSL Checker helps you see if your website has Secure Sockets Layer (SSL) encryption which protects your website from exposing customer data to cybercriminals. Since HubSpot and many other content management systems (CMS) provide free SSL, there is no excuse to secure your website.
HubSpot Free Marketing Tools Provide Great ROI
HubSpot also provides great paid tools that help growing businesses generate inbound leads, drive website traffic, and help your business increase revenue. Since there is no cost to any HubSpot free tools, you will have an instant positive return on your investment. Your time and willingness to learn and create great inbound marketing campaigns are the only investment.
About Inbound AV
Inbound AV is a full-service digital marketing agency and HubSpot Platinum Partner. We help growing businesses develop game-changing strategies and the automated processes needed to help you scale. As a HubSpot partner, we provide a full range of services to support your operations team, including custom integrations, automated workflows, onboarding, training, and ongoing support services.