Many people think of HubSpot as just an email marketing tool. They're right. HubSpot started as a marketing automation platform but has evolved into a comprehensive knowledge management platform over the last few years.
What is knowledge management?
According to kminstitute.org, "...knowledge management (is) a way to identify, organize, store and share information." Knowledge management systems help businesses organize data, improve productivity, and enhance learning within the organization. HubSpot is a CRM platform and is also considered a knowledge management system for sales, marketing, and customer service.
Two distinctive knowledge management functions within Hubspot have different use cases; Playbooks and Knowledge Base. While the names of the tools seem similar, they provide very different benefits for your organization. This article will review these knowledge management tools and how they can help your business generate new revenue and retain existing customers.
The HubSpot Sales Playbooks Feature (Professional +)
Until recently, the Playbooks feature in HubSpot Sales was only available at the Enterprise subscription level. Now available at the Professional level, Playbooks brings knowledge management to the SMB market.
Playbooks is a script tool you can use to train and support sales development, inside sales, account managers, and support teams. With this interactive tool, you can provide answers to frequently asked questions, create process outlines, and record that information within the contact activity record.
Benefits of using Playbooks


Operationalizes processes
Playbooks make it easy for new employees to answer questions and experienced colleagues to create and use repeatable processes.
Improves response time
Playbooks improve your ability to respond to questions promptly
Improves sales and customer success
Using Playbooks, you will delight your customers by answering their questions and turning them into advocates who recommend your business to others.
Record answers
Transcripts of playbook answers are recorded in Contact Activities
Playbooks use cases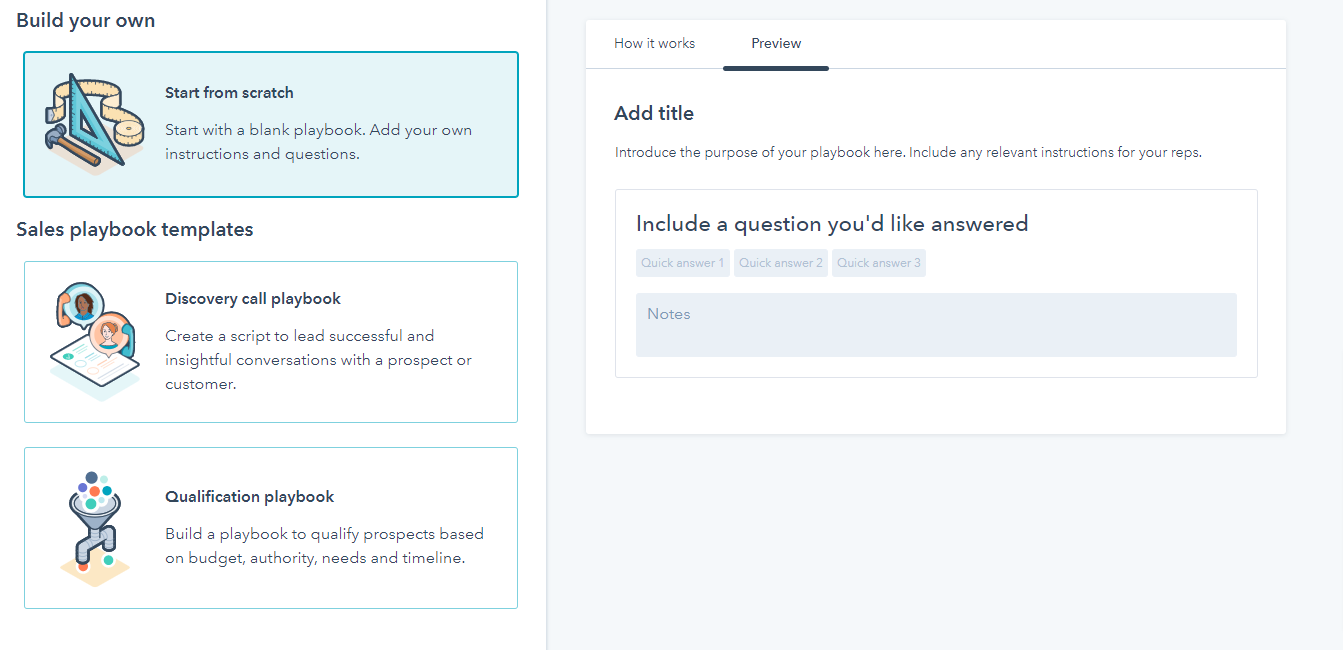 Sales Development Scripts
Creating scripts for sales development representatives (SDR) is one of the most common use cases for Playbooks. You can build a script based on the questions the SDR asks the customer on their initial call. The script guides them through the process, and they fill in the answers to create a conversation log in the Contact file. This feature helps new sales development reps get up-to-speed faster and helps inside sales representatives in the next stage of the sales process.
Competitive Battle Cards
Sales reps are often asked to describe how their product stacks up against the competition. Competitive battle cards provide the ammunition to counter competitive claims and push past objections. You can create a battle card for each competitor you face regularly.


Discovery Call Scripts
Inside sales representatives use discovery calls to learn about prospects and to qualify them. Discovery calls use Playbook scripts to ensure they don't forget to ask important questions like their budget and who else is involved in the sales process.
Sales to Customer Success Handoff
Managing Your Customer Success Handoff

is a course in the HubSpot Academy. It describes the process sales and customer service team members go through to complete the all-important sales-to-customer success handoff.
Customer Success Scripts
Once the handoff is complete, customer success representatives guide customers through the onboarding process. Often, agents must step through users' complex lists of tasks. Sales Managers can use playbooks to train the agents and record the customer responses during the learning process.
How to set up Playbooks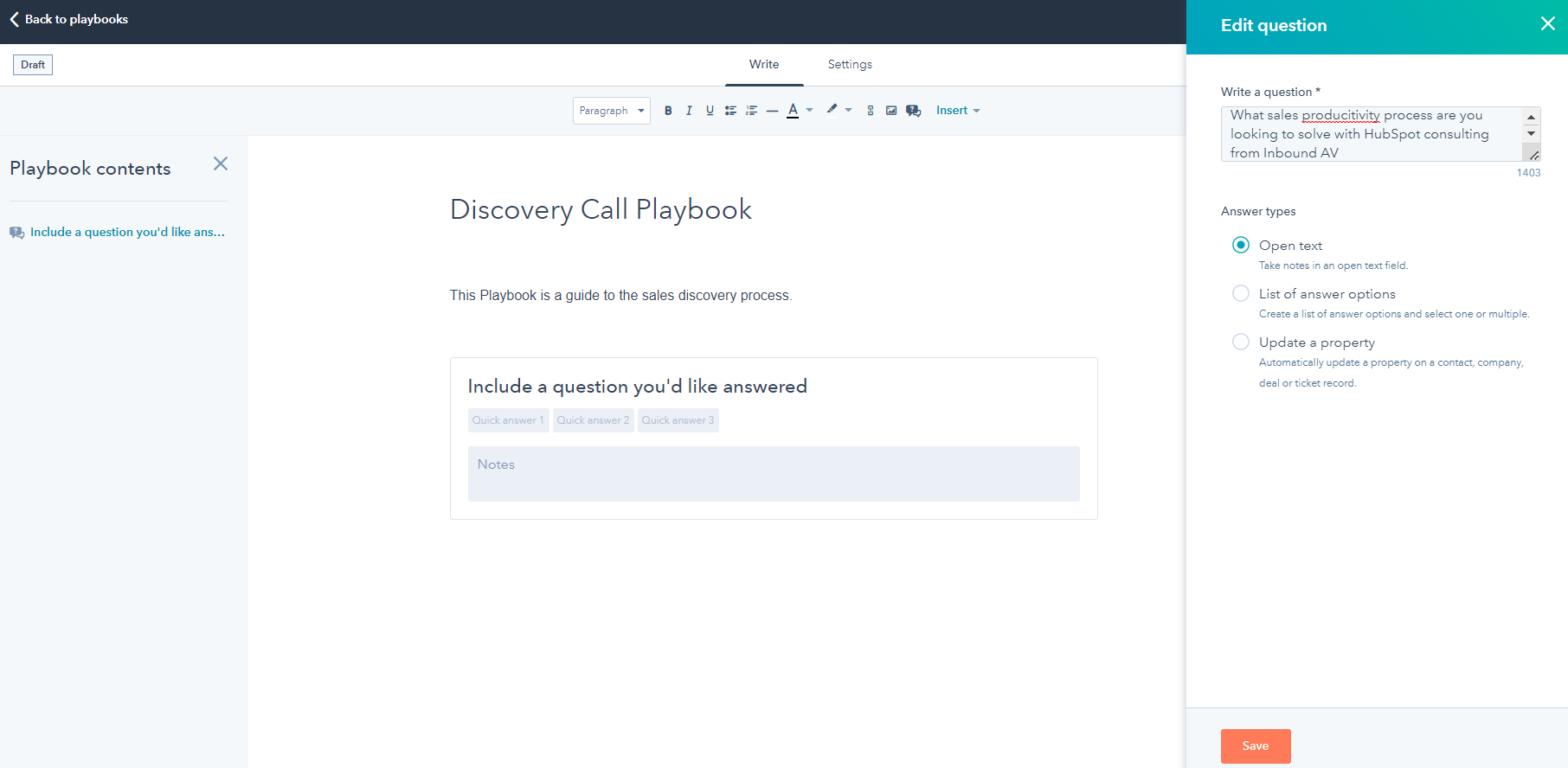 It's easy to set up your first Playbook. You must be an administrator in the Sales Professional/Enterprise hub and have a user license to create a Playbook. Navigate to Sales/Playbooks to get started.
Define your sales strategy
Before starting, it helps to define your sales process by identifying your sales strategy. For instance, is your goal to close the deal on one call or qualify the buyer before taking additional steps?
Source: HubSpot Blog - The Ultimate Guide to Sales Qualification
Set up the Playbook
You can use one of the templates or create a Playbook from scratch. In the image above, the administrator created a Playbook titled Discovery Call Playbook and entered the first question. Note that there are three answer options: open text, list of answers, and change a property.
To add additional questions, use the insert option and select Question. You also have the option to insert a video or embed code.
In the Settings tab, there is only one question. How do you want to log the Playbook? The options are a call, meeting, email, or note.
When you are done creating the Playbook, click on the Publish button, and your Playbook is ready to use.
Using the Playbook in HubSpot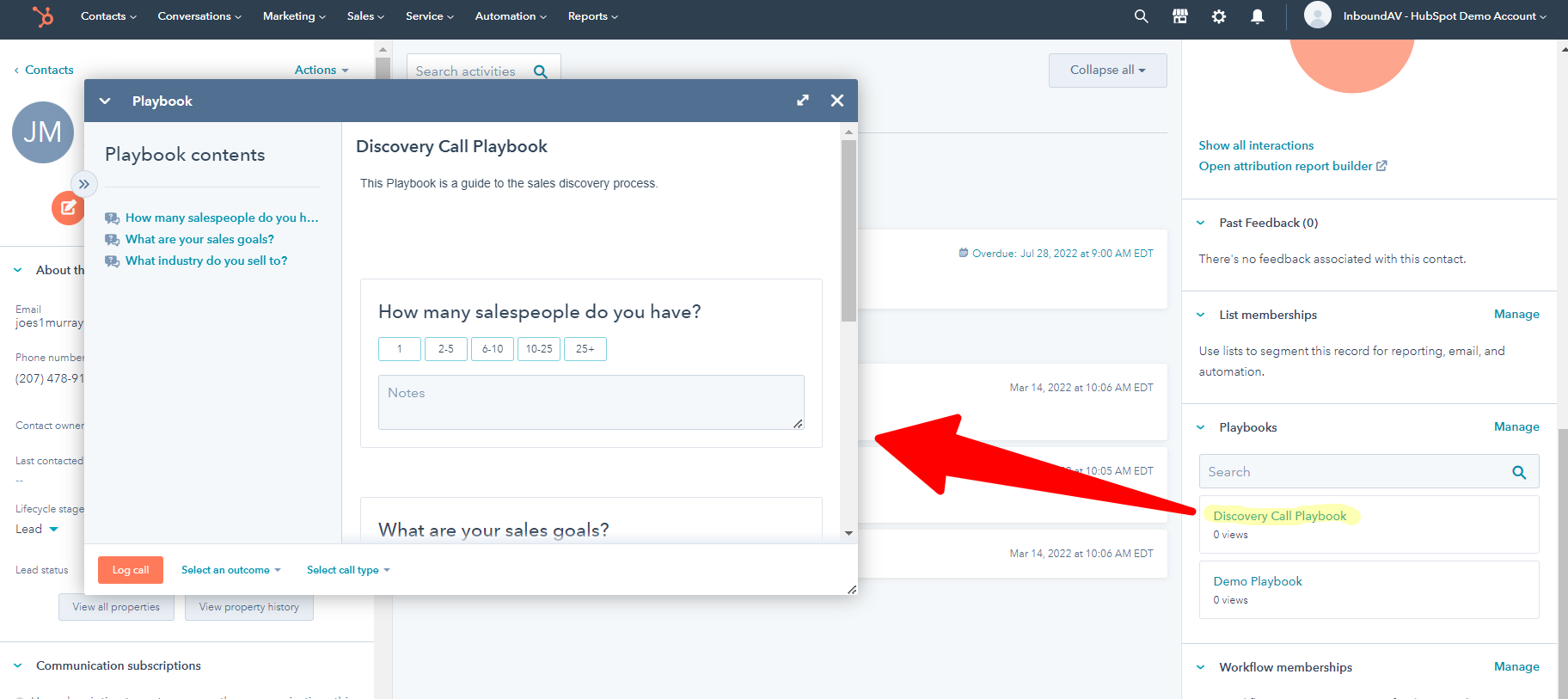 While you can launch a Playbook from the menu screen, the easiest way to use a Playbook is to go into a Contact record and select the Playbook you want from the right-side menu. The Playbook will pop up in a separate window. When you complete the questions, select the Log button in the bottom left corner.
The HubSpot Sales Playbook tool is a simple and powerful knowledge management tool to help you onboard new sales development reps and improve the overall sales and customer success process.
Knowledge Base for Customer Self Service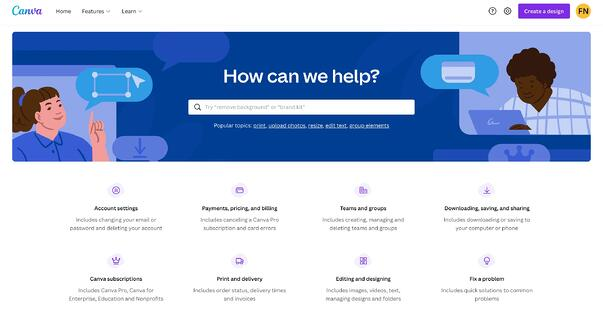 Canva Knowledge Base Sample: HubSpot
Many organizations have internal wikis, content management systems, or cloud-based directories to store customer success information. These options require a customer success employee to access the data before sharing it with the customer. However, this process takes time and often requires navigating a complex web of online folders or software tools to locate your answers. Each of these options involves employee interaction to answer the customer's questions.
The HubSpot Knowledge Base is a powerful customer information system in HubSpot Service Hub (Pro+) that puts all that information at the customer's fingertips. Knowledge Base is a self-service customer success platform you can insert into your company website or intranet. You simply publish Knowledge Base to your website using your company template and let your customers know the questions to their answers are easy to access.


Benefits of using Knowledge Base
Frees Up Customer Success Reps for More Critical Issues
Customer success reps often spend a lot of time answering mundane questions repeatedly. The HubSpot Knowledge Base puts these frequently asked questions (FAQs) on your website, where it is easy for customers to answer their questions. Success reps can focus on more important issues and respond to critical issues more quickly.
Automate Customer Success
One great way to improve customer satisfaction is to use a Chat Bot to screen customer questions and direct them to the appropriate FAQ on the Knowledge Base.
Add Video to Answer Technical Questions
Often video is the best way to communicate a complex process. You can add videos to your Knowledge Base by creating your channel and hosting how-to videos, installation, and troubleshooting guides.
How to set up a Knowledge Base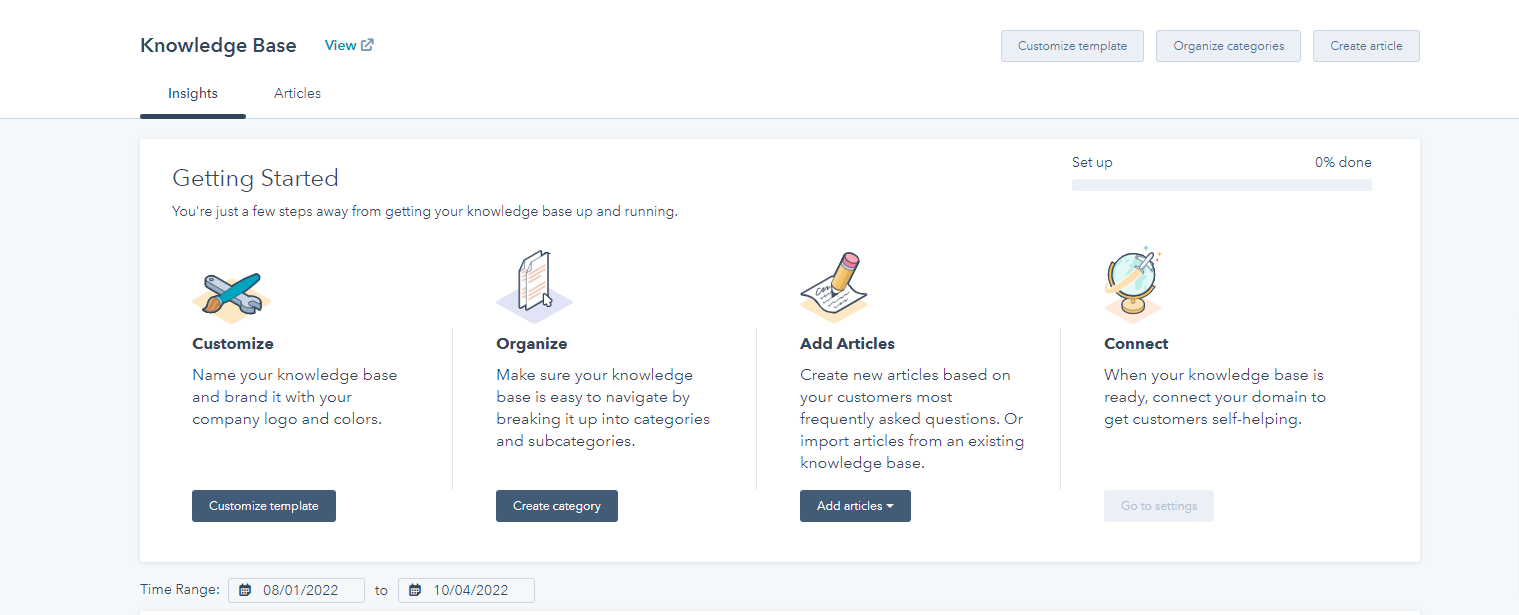 An administrator must have access to a Service Hub paid seat to set up the Knowledge Base tool. Navigate to Service/Knowledge Base. There you will find a set-up wizard to guide you through the process.
Four Knowledge Base Set-Up Tasks
Customize
Set up the Knowledge Base template to match your company's website template
Organize
Create folders for different types of articles/videos
Add Articles
You can insert articles one at a time or use a CSV template to import multiple articles simultaneously. Once the articles are uploaded, you can add them to the newly created folders.
Connect
When your Knowledge Base is ready to publish, connect your domain to the Knowledge Base, and your new FAQ site will be
Adding Knowledge Management Tools to Your Business
Information is the lifeblood of any business and having organizational tools to locate and dispense information allows your company to grow faster by improving sales processes while maintaining your hard-won customers for the long run.
If you want to learn more about HubSpot Sales and Playbooks or HubSpot Service and Knowledge Base,
contact Inbound AV, a HubSpot Platinum Partner.


About InboundAV
InboundAV is a full-service digital marketing agency and HubSpot Platinum Partner. We help growing businesses develop game-changing strategies and the automated processes needed to help you scale. As a HubSpot partner, we provide a full range of services to support your operations team, including custom integrations, automated workflows, onboarding, training, and ongoing support services.

Contact InboundAV to schedule a free HubSpot consultation.
References
https://www.kminstitute.org/blog/explaining-knowledge-management-its-importance-use-cases-and-types
https://blog.hubspot.com/sales/ultimate-guide-to-sales-qualification
https://www.hubspot.com/knowledge-base