"Hello, how can I help you?"
These words are spoken every day by customer service teams around the world. From taking orders to solving technical problems, service is a critical ingredient in retaining and growing your business, from taking orders to solving technical issues. Easy-to-use customer service software can save your business money by keeping your customers happy and engaged.
HubSpot Service Hub is one of the top customer service solutions for growing businesses and is an integral part of the HubSpot CRM platform. While it is one of the newer hubs, HubSpot continues to roll out new features regularly.
Before investing in any SaaS solution, it's essential to understand the benefits and costs to your business. What problems will the software solve? Will it bring in more revenue, retain more customers, or reduce costs. If the solution answers these questions, it is worth investing in. Fortunately, HubSpot Service Hub helps increase revenue through customer communications, keeps those customers around for a longer time, and reduces costs through improved productivity, internal communications, and process automation.
The Top 3 Benefits of Service Hub
Speedy and reliable customer communications
Improved customer satisfaction
Increased productivity through process automation
Customer Communications
One guaranteed way to chase away a customer is by ignoring their request for help. If a customer is using your product or service and needs assistance, you must respond to them in a timely fashion. Many companies use inbound call centers to handle these first-line support issues, and the customer service agents create support tickets while engaging with the customer. But many call centers are understaffed, and long wait times are an ongoing problem for many businesses.
Service Hub provides several channels for customers to communicate with your service team. In addition to integrated inbound calling features, HubSpot supports live chat, automated chatbots, email, Facebook Messenger, and Slack support. You can also create customer service forms and place them on your website or a dedicated landing page.
Answering Questions - the Shared Inbox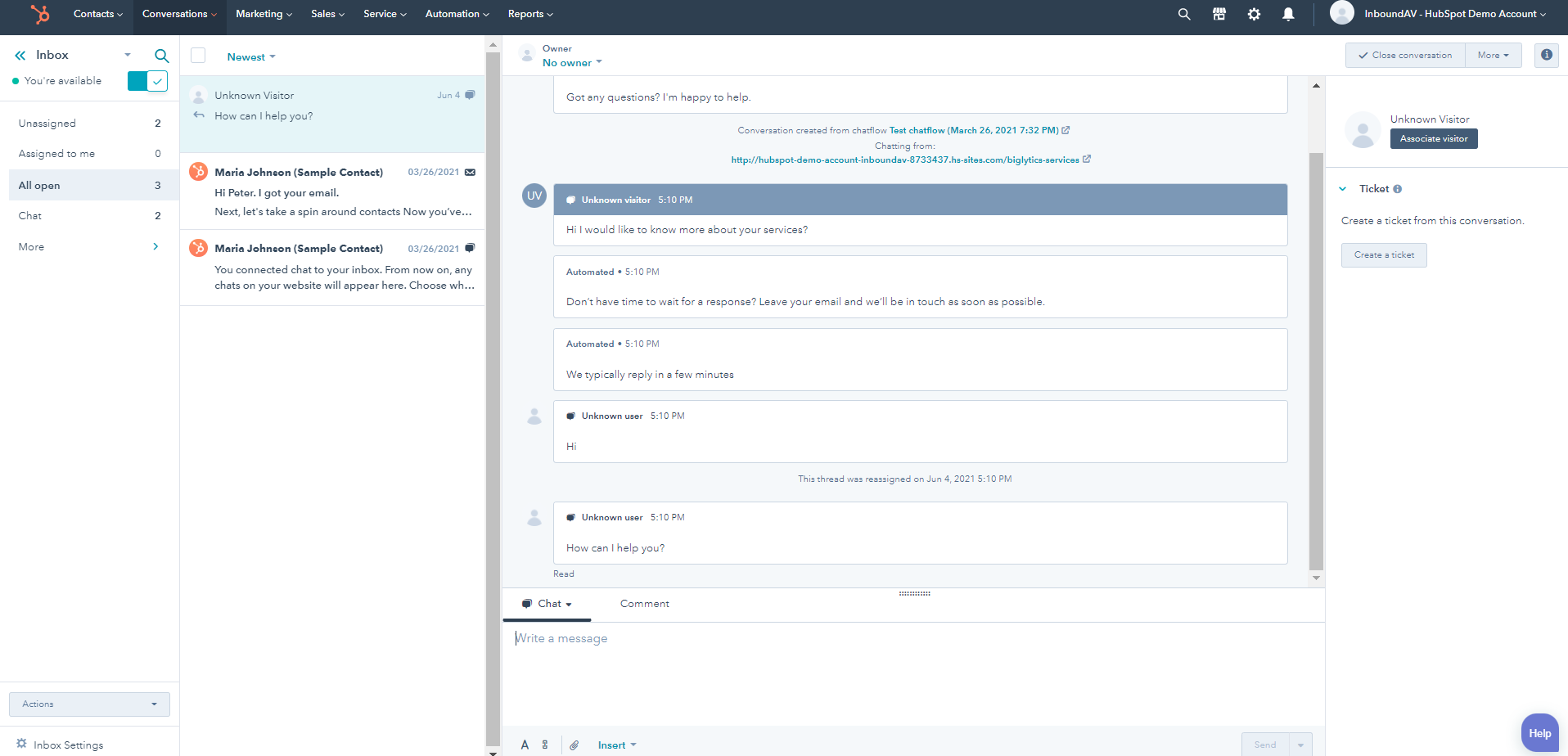 HubSpot's tool to manage these inbound inquiries is the Shared Inbox. Here your customer service representatives can view and reply to questions in one common interface, trigger support tickets and re-assign tickets to different teams (like accounting, engineering, or technical support).
Set Service Standards with SLAs
A busy customer service department may be inundated with requests at one time. One way to prioritize requests is by establishing a Service Level Agreement (SLA) for your team. SLAs create standards for responding to and closing support tickets in terms of days or hours. Administrators can set up the SLA levels in HubSpot Service Hub, and support reps can classify requests in the inbox. Tickets can be sorted or filtered based on SLAs, and you can also set up automated triggers to send internal notifications or external emails. Once your tickets are organized, then the HubSpot ticketing tool will help you track and report on open support cases.
Ticketing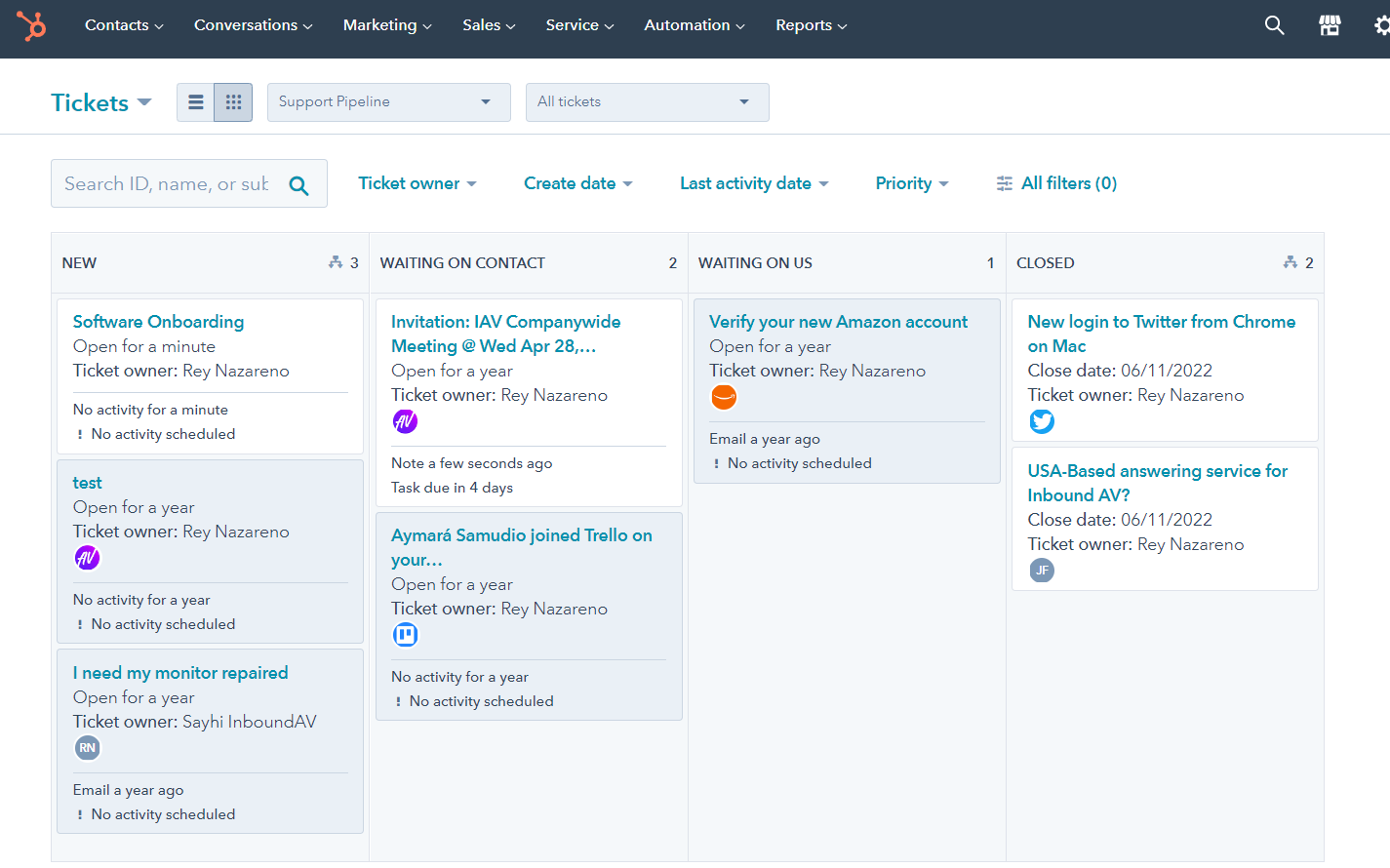 The Service Hub ticketing feature is available at all price levels. You can view open tickets in either the Kanban view (pictured above) or a standard table view. The ticket pipeline can be set up in several stages and is fully customizable. Moving tickets by simply clicking and dragging the ticket cards from one status to the next is easy. You can view the ticket details by selecting the ticket name. In the detail view, you can see related information like contacts, companies, and deals, view account activity, change statuses, and assign tasks. Standard filters include ticket owner, create date, and last activity date. Like other HubSpot objects, you can create custom filters to suit your individual preferences.
Knowledge Base (Professional)
If your organization has a busy customer support department, using self-service applications like chatbots and knowledge bases will reduce wait times for live agents and help streamline the support process.
A knowledge base is a micro-website you can create and manage in HubSpot and display as part of your public website or customer intranet. If you use the HubSpot CMS, your Knowledge base page will use your existing templates to match your brand style guides. A typical knowledge base can contain questions and answers (Q&A), technical articles, instructional videos, and other content that will answer customer support questions.
Knowledge Base Set up Templates

Customer Surveys (Professional)
The best way to expand your business is by creating happy customers. They are also your best sounding board and will be glad to tell you what you are doing right and what you are doing wrong. While many people don't want to hear the bad news, that feedback will help improve your business operations and create more happy customers.
The Customer Surveys feature in Service Hub professional and enterprise levels is a wonderful tool for obtaining customer feedback. The tool includes three industry-standard survey formats and a custom survey tool. While it isn't as robust as standalone survey tools, Custom Surveys helps you create basic surveys and provides a means to send them to your customers.
Types of Surveys
Customer Experience Survey - Also known as the happy face survey, this tool lets you get a quick read on customer sentiment after a buying experience.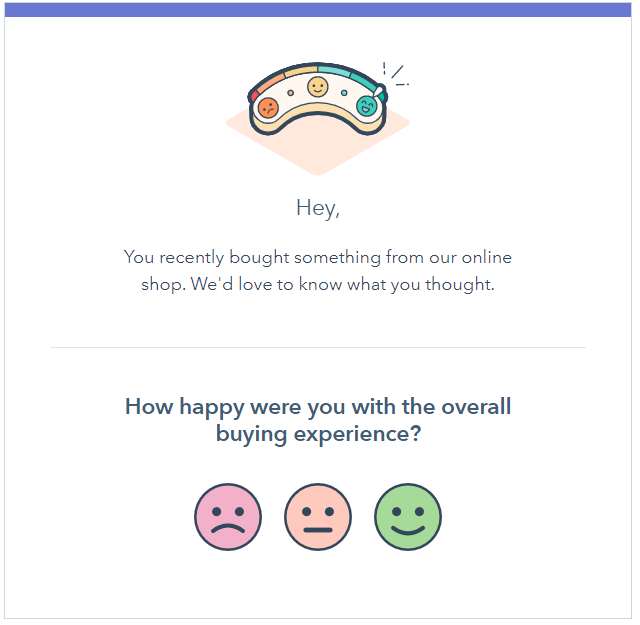 Customer Satisfaction Survey - Use this survey to measure your customers' satisfaction after your representatives resolve a service issue.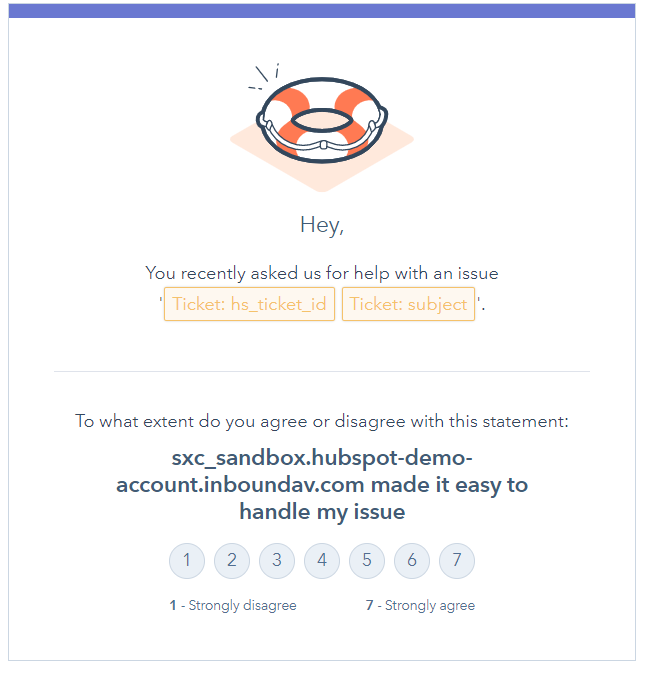 Customer Loyalty (i.e., Net Promoter Score) Survey - This is a standardized survey used in many industries. It asks one question, would you recommend the company to a friend or family member. It uses a scale of 1 to 10, with 1 being strongly disagree and 10 being strongly agree. The Net Promoter Score (NPS) is based on the difference between the top two scores (9 and 10) and the bottom two scores (1 and 2). The NPS is the difference between the top scores and the bottom scores. The middle scores aren't measured.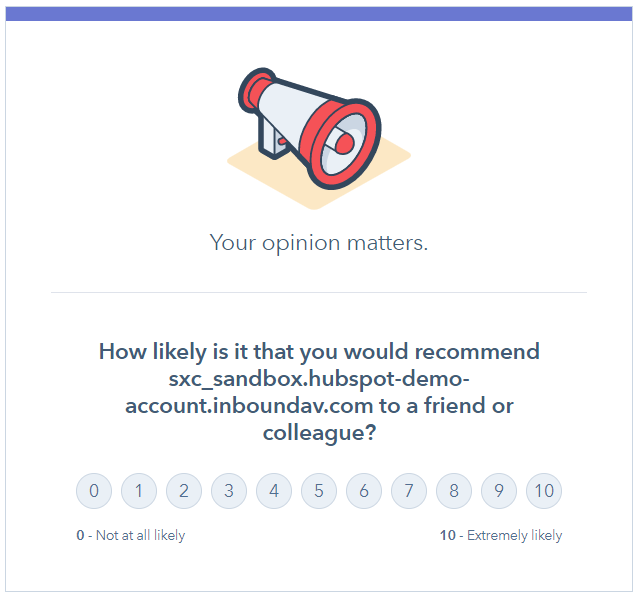 Custom Surveys - You can build your own surveys using the different questions and components from the other survey methods. There are limitations on the number of questions and survey format, but it allows you to create a quick survey within the HubSpot platform. You can send the survey by email or by including a link in a message if you're using Slack or Messenger. You can also customize the email with a drag-and-drop editor to customize the experience.
The front page of the surveys portal includes reports and analytics. You can view summarized data or view all survey results.
Finally, survey results are posted within HubSpot, and you can create workflows to send automated responses to account managers or trigger follow-up campaigns.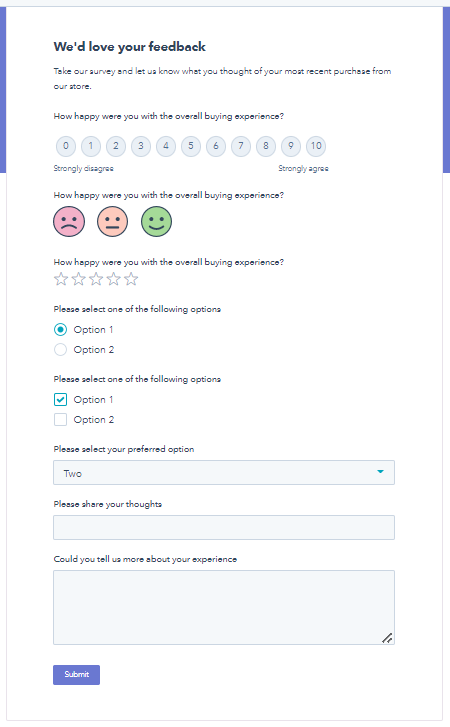 Customer Portal (Professional & Enterprise)
One way to improve the customer experience while reducing the demand on your support team is to create a self-serve customer portal. This password-protected portal allows customers to view open and closed tickets in a table format, view ticket details, and create new tickets. The portal is typically accessed through the Knowledge Base website page, but you can also provide customers with a link to the registration and login pages.
Security features like single-sign on are available to validate customers and protect customer information. The portal can be accessed through a standard web browser and mobile browsers.
Templates
Your customer portal has three main pages:
Ticket listing: This contains a table of open and closed tickets.
Ticket detail: This shows the conversation associated with a selected ticket.
Ticket form (Optional): Displays a HubSpot ticket form where customers can submit new tickets.
You can preview the ticket listing and detail page templates and review your branding settings to ensure your customer portal's appearance stays consistent with the rest of your website.
Service Hub Analytics and Reporting
The HubSpot Service Hub provides a complete set of analytical and reporting tools to help you measure your team's performance and the level of customer satisfaction. Analytics are reported in real-time, and as a manager, you can stay on top of individual representative performance and overall customer success to make quick changes and stay ahead of problems. These reports are displayed in a Service dashboard to share with team members, managers, and executives.
Service Analytics
You can use these reports in the Analytics section to measure customer satisfaction. Reports can be modified as needed to meet your organization's needs.

Team Performance
Performance reports allow you to view service team response time, support volume, and how long it takes to resolve issues. You can view both team and individual statistics.


Using Service Hub with Sales and Marketing
The HubSpot CRM provides a 360o view of your customer-facing activities. You can manage and view the entire sales process without purchasing third-party tools. By integrating your CRM with accounting, ERP, and other back-office systems, your organization can improve productivity by reducing redundant processes and friction in the entire customer lifecycle.

About Inbound AV
Inbound AV is a full-service digital marketing agency and HubSpot Platinum Partner. We help growing businesses develop game-changing strategies and the automated processes needed to help you scale. As a HubSpot partner, we provide a full range of services to support your operations team, including custom integrations, automated workflows, onboarding, training, and ongoing support services.
Contact Inbound AV to schedule a free HubSpot consultation.