Founded in 2006, HubSpot has since become an indispensable platform for many businesses in need of inbound marketing, sales, and CRM support. With an increase in online interactions, more marketing and sales teams are discovering the necessity of the platform. For those who have not yet heard of HubSpot, or haven't yet considered utilizing its services, keep reading to learn about the platform and how it might benefit your business.
ADD-ONS & ORGANIZATION
Where HubSpot finds its many strengths is in its flexibility and possibility for expansion. The platform features a variety of different products and add-ons that can be combined in whichever configuration best fits your marketing needs. Of course, constant add-ons can easily get confusing when it comes to advertising and marketing software. That's why HubSpot's Growth Stack software makes all the difference. HubSpot not only offers a variety of game-changing marketing tools but a way to organize and keep track of these many functions.
HubSpot offers an array of products, many of which you can utilize limited versions for free or through other product subscriptions. Overall, HubSpot's services are divided into five different "Hubs":
With HubSpot's Growth Stack, subscribers gain access to these five core software functions.
MAIN FUNCTIONS & SERVICES
Let's take a look at the main functions and services provided by HubSpot subscriptions. Keep in mind that HubSpot offers a variety of different subscription packages and bundles, so the extent of these functions can vary depending on a subscriber's wants and needs.
The bulk of services that drive inbound marketing and growth resides in the Marketing Hub. Overall, Marketing Hub and other HubSpot software provide subscribers the ability to:
BUILD WEBSITES
HubSpot provides its own web design resources that anyone can navigate without IT support or a professional web designer. This allows users to layout and implements design changes at the click of a button, with no need for any coding.
HubSpot also provides reporting once your website is live. This includes a "grade" for each web page and insights on how to improve your website's viewership and search engine reach.
ESTABLISH CTA'S & LANDING PAGES
CTAs or "calls-to-action" are an important approach for any business to reel in potential leads. HubSpot allows you to insert CTA buttons onto web pages, emails, newsletters, and more to channel any visitor traffic into quantifiable customer leads.
CTAs go hand in hand with landing pages that are quick and easy to create yet highly customizable. On HubSpot, CTAs and landing pages can be customized to specific user experiences to maximize the potential to grab customer attention.
POST BLOGS
Blogs can play a huge role in inbound marketing strategies by providing a place for keywords and phrases to reside on your website. HubSpot not only provides a blog platform but analytics and guidance on how to make your blogs as successful as possible.
MAXIMIZE KEYWORDS & SEO
HubSpot's advanced SEO analytics allow you to continuously improve and maximize your keywords to reach your target audience. Automated SEO advice shows up as you're working on the page, and later data can show you how your SEO ranks against competing businesses.
PUSH & ORGANIZE AD CAMPAIGNS
HubSpot also offers an Ads add-on that can up the effectiveness of your advertising on a variety of different ad platforms. The add-on organizes and analyzes ad campaigns on Google AdWords, Facebook Ads, and LinkedIn Sponsored Updates, providing statistics on impressions, clicks, leads, ROI, and more.
POST TO SOCIAL MEDIA
HubSpot's social media management software syncs and organizes your social media campaigns across platforms. Scheduled posting is easy and even allows you to post to multiple social networks at once, later offering internal tracking and statistics on your posts' success.
CREATE AND SEND EMAIL CAMPAIGNS
Email campaigns are easy to design and easy to send out with HubSpot. Customize your recipient's lists and quickly create professional-looking email formats that can reach exactly who they need to with little effort. As with blogging, social media, and ad campaigns, on-site email performance tracking allows you to improve your email strategies as you go.
AUTOMATE MARKETING ACTIONS
Marketing automation expands the bandwidth of marketing teams. With automation, you can create marketing workflows quickly and easily, with various automatic triggers and responses based on your audience's interactions and engagement.
REPORT ON MARKETING IMPACTS & ROI
HubSpot's comprehensive performance reports and lead tracking provides feedback on a wide variety of metrics and data. Furthermore, data is organized into one conglomerate location that makes it easy to track. This allows businesses to measure the success of their marketing strategies from several different angles, which can even translate to ROI reports.
LINK EXTERNAL APPS
Most businesses will inevitably use a wide range of applications for their marketing, sales, and CRM ventures. Through Operations Hub, Data Sync allows you to link all of the most popular external applications that your business might use, including Google Suites, Outlook, Square, and more.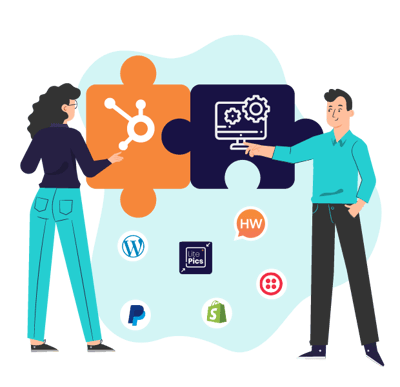 IS HUBSPOT RIGHT FOR YOUR BUSINESS?
Today, HubSpot serves a diversity of industries. The platform is equipped to work for many different marketing strategies and business models. However, it's important to remember that no software can provide your business with instant success without a strong underlying business model and strategy.
Still, HubSpot is known to provide many businesses with the bandwidth and resources they need to begin to grow. If your SMB finds itself frequently struggling to keep up with its own scale, HubSpot might provide you with a plethora of game-changing capabilities.
Are you curious about getting an in-depth look at HubSpot's services or wondering what HubSpot package might best suit your business? Inbound AV would love to help! As a HubSpot Solutions partner, we are excited to guide you through the details of all of HubSpot's products and capabilities.
Book a meeting with our HubSpot experts at your convenience, and we'll get back to you.
Clear metrics & measurable results
When an inbound marketing agency aids you in your business planning, you always experience the benefit of third-party accountability for measuring real results. At InboundAV, we take on the responsibility of tracking and reporting growth for our clients, adjusting marketing strategies when something is not working.
With added expertise as a HubSpot Solutions Partner, this is only more true. Partners are dialed into the ins and outs of HubSpot, making it easier for us to see and actualize successful aspects of your business strategy. We handle the metrics and data, and with the power of HubSpot, make way for measurable results sooner on in the process than if you were on your own.
Contact us
If working with a HubSpot Solutions Partner sounds like a fit for your business, InboundAV would love to walk you through the process. We're available today to answer any questions you might have. And if you're not convinced yet, reach out at your convenience and let us convince you why our HubSpot partnership could be game-changing for your business.