HubSpot Sales Hub - Reinvented to Power Outbound Sales Prospecting
Inbound 23 is open and HubSpot is announcing a whole new solution to improve connecting with your leads and prospects. The relaunch of Sales Hub is the focus of this year's event and HubSpot is adding a lot of exciting tools for companies focusing on growth and sales productivity.
HubSpot is reshifting the focus of Sales Hub from a Sales CRM to a sales engagement tool connected to the HubSpot CRM or whatever CRM they use. They are focusing on prospecting, mobile, and productivity tools to help sales development reps (SDRs) and Account Executives (AEs) be more effective.
Solving the Connection Gap
Growing businesses battle with their ability to connect with buyers. The move from in-office to remote working is a big factor. The average number of attempts ranges from 7 to 12 attempts according to the SDR Metrics Report published by The Bridge Group.
Reaching quotas is also getting harder. SDRs need to make more attempts to conduct fewer quality conversations. Sales leaders need to find better ways to analyze and interpret the flood of sales data being generated by sales and marketing technology.
Artificial intelligence (AI) is also complicating the life of the sales development rep. Generative AI (GenAI) tools can make the SDR's life easier, but learning how to use these tools and still form a personal connection with buyers is an emerging challenge.
How HubSpot Sales solves B2B sales challenges
"Work smarter, not harder," is a cliche but aptly describes the goal of the HubSpot Sales Hub relaunch. HubSpot is providing sales teams with tools to help them work smarter. Their three objectives are to prospect smarter, accelerate the sales process, and improve insights. The following overview of features demonstrates how HubSpot is improving Sales Hub to help growing businesses meet their goals.
New Sales Hub features announced at Inbound 23
HubSpot announced a load of new features at Inbound 23, but Sales Hub received a lot of attention with new positioning, tools, and productivity features. Generative AI is being introduced in all hubs and some of the AI features in Sales Hub include using AI to generate emails from the mobile app, improved forecasting, and using historical data to predict future sales. The most impactful feature is the new Prospecting Workspace which organizes all of the relevant prospecting tools in one easy-to-use location, the ability to identify contacts as leads, and the new lead pipeline giving SDRs their own insights and tracking before leads are converted to deals.
Prospecting Workspace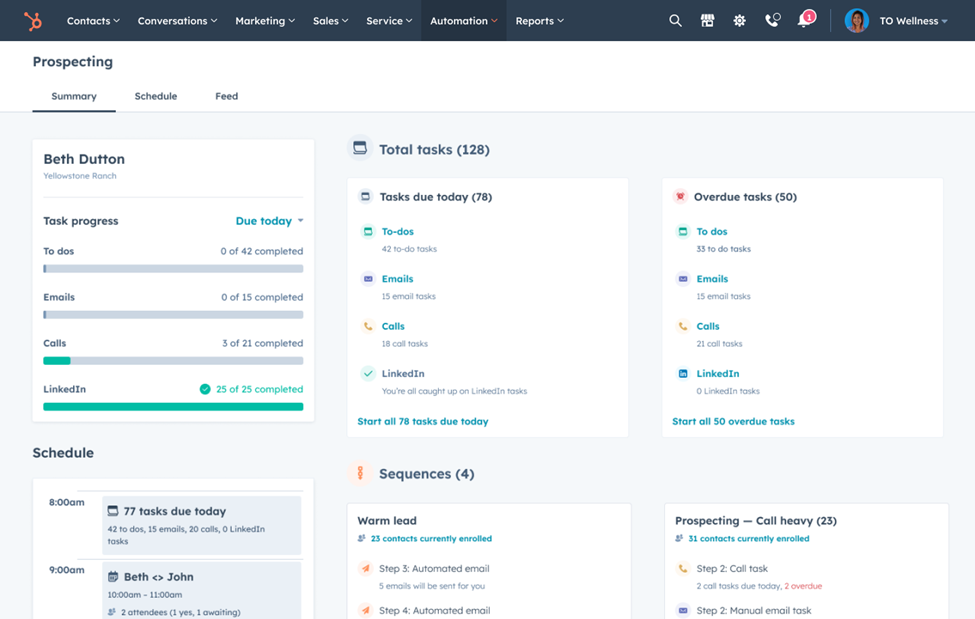 The Sales Hub Prospecting Workspace is a single location where sales reps can see all activities in one space. They can view their top leads, tasks, appointments, and sequences with a single glance without switching apps.
With the lead management tool, SDRs can work more effectively and track leads as they move through the sales process.
Leads add a new dimension to the sales process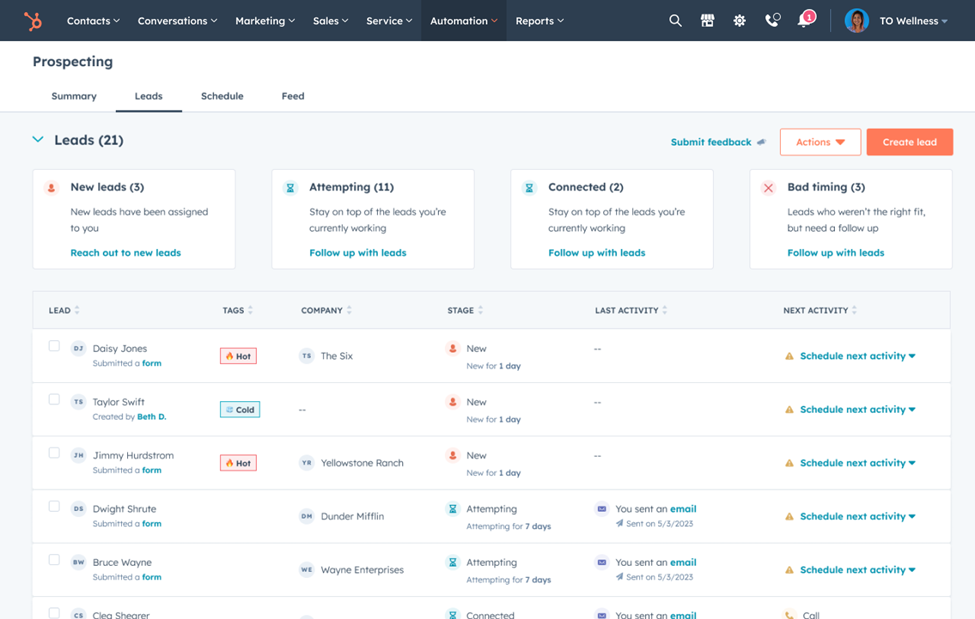 HubSpot is introducing Lead tags and stages that can be organized and reported on like a deal. Lead tags allow you to mark and track important leads within the sales process.
Smarter Sequences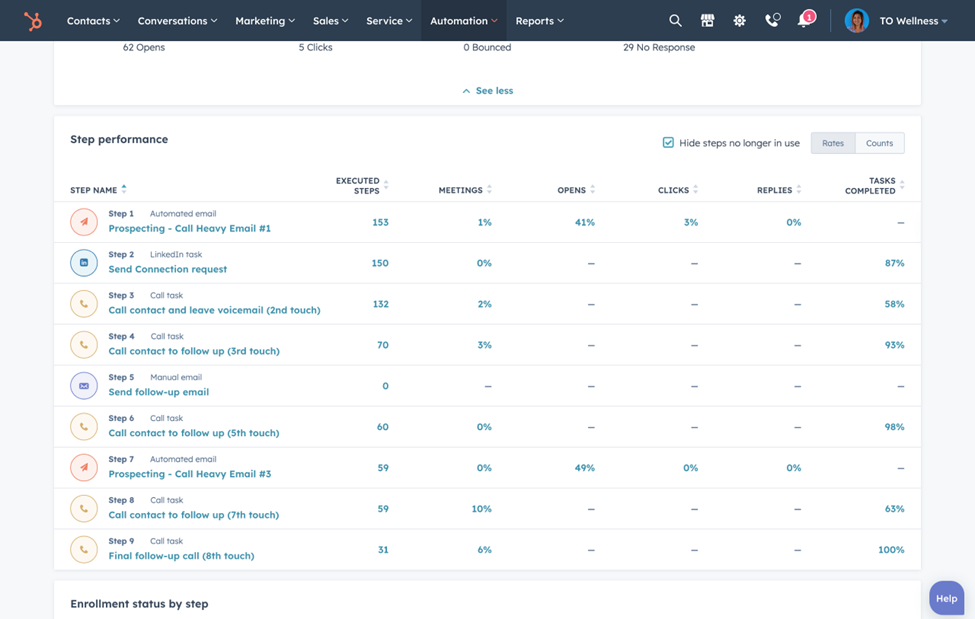 The new Sales Hub provides deeper insights into Sequences with a Step Performance report customer email engagement and other touch points. Sales Outcome Reporting tells you how sequences are influencing the sales process.
Seamless Handoffs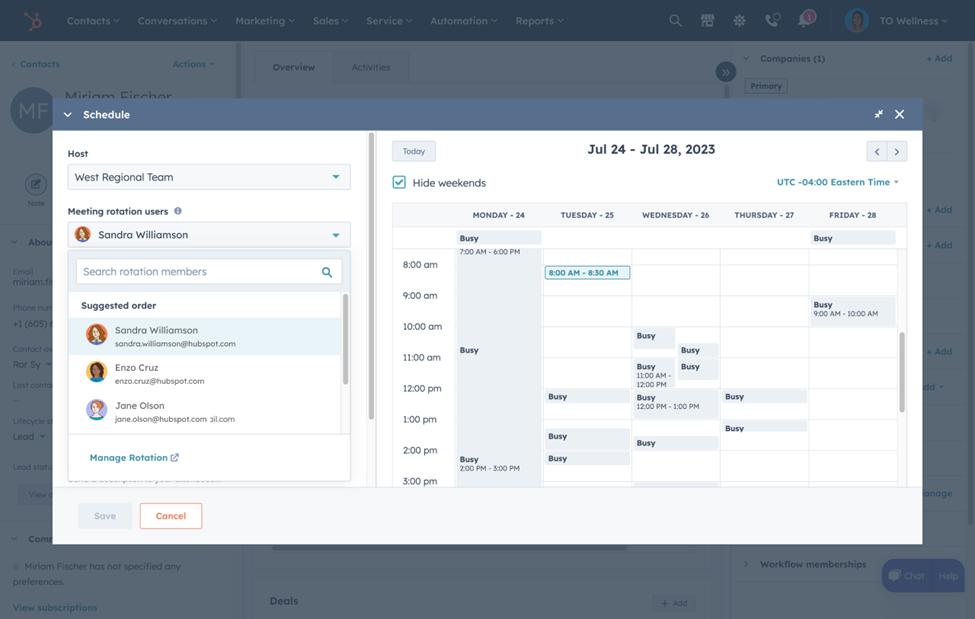 Create a better customer experience and coordinate your team sales by improving the sales handoff process. Now leads can be automatically routed from forms and in sequences. You can also book appointments for other people within Sales Hub.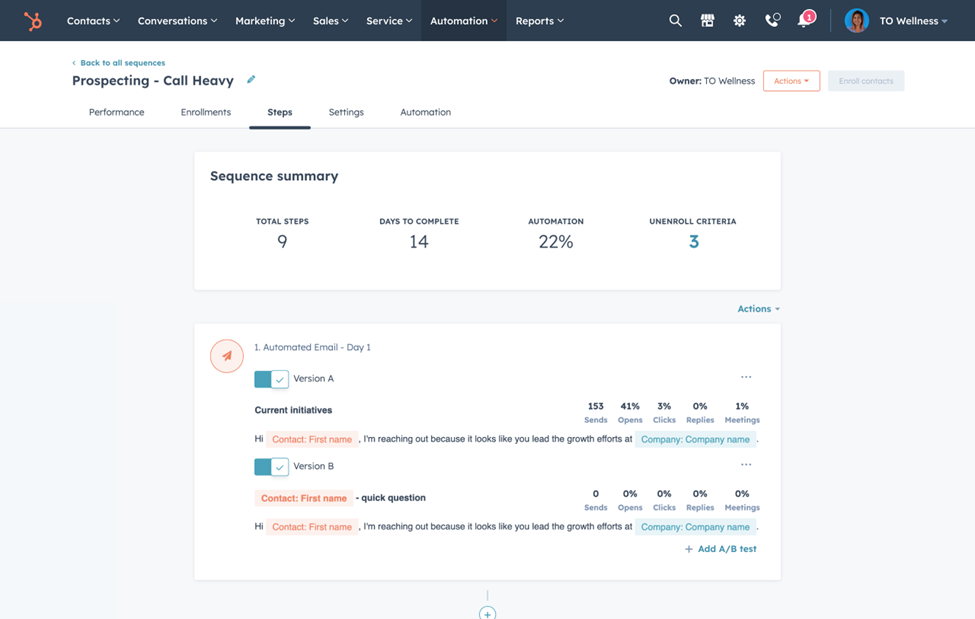 Do you want to find out which emails or activities are the most effective in Sequences? HubSpot added A/B testing to the Sequences tool. Send each test to a 50/50 audience split, identify the best performer, and then send that email out to the rest of the sequence.
Mobile prospecting tools
Sales Hub now includes additional mobile features to help you manage your sales process while on the road. You can manage sequences by enrolling, unenrolling, or pausing sequences from within the mobile app. You can also scan QR codes and enter leads directly into the HubSpot CRM. The content assistant uses GenAI to create sales emails from within the mobile app.
Deal inspections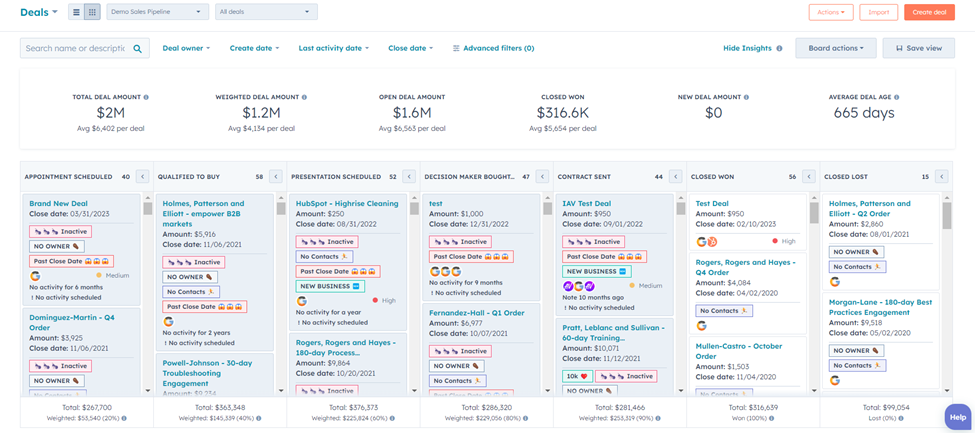 New tools allow you to create color-coded tags within deals to help you track and analyze the sales process. New and improved sales pipeline reporting is more flexible, allows you to move funnel steps around, and even keeps track of skipped steps. A new sidebar
Forecast intelligence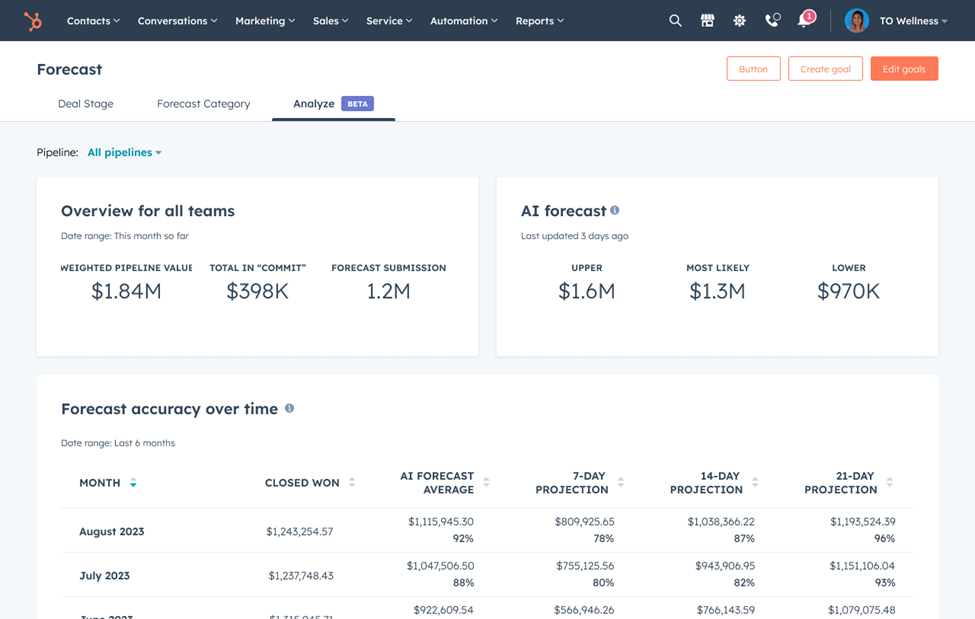 Take your sales forecasts to the next level with the Forecast Intelligence tools. Enhance manual sales forecasts with AI forecasts which apply historical data to the forecast model, improving accuracy and providing additional insights. Embedded insights show how forecast accuracy within a quarter.
Prospecting activities reporting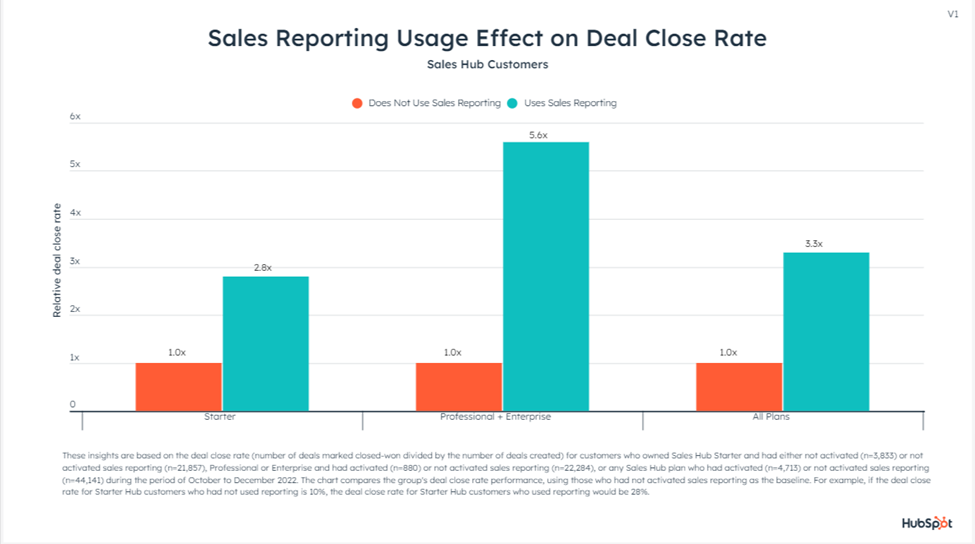 Source: Infogram
Reporting is an important part of Sales Hub, and it is often overlooked by users and sales managers. A recent survey that using Sales Reporting can increase deal close rates by 3.3x
Improved Salesforce Features
Sales Hub can be seamlessly used with the HubSpot CRM, but if your team is using Salesforce, Sales Hub can be used as a standalone sales engagement platform. New updates include the ability to embed the HubSpot Sales app within Salesforce. This allows you to enroll contacts directly into sequences and create meetings directly from Salesforce. You can also sync Salesforce activities into HubSpot so you can analyze calls, meetings, and tasks from wherever they originated.
Start using the new Sales Hub features today
Many of the features announced are either Live on HubSpot, in public beta, or in private beta testing. You will need Sales Hub Pro to view most of the features in this article and a few of the features such as Advanced Playbooks, and Forecasting are only available in Sales Hub Enterprise. Check out our blog posts on the other amazing new features being introduced at Inbound 23 this week in Boston.
InboundAV is a full-service business development agency and certified HubSpot Custom Integration Partner. We help growing businesses develop game-changing strategies and the automated processes needed to help you scale. As a HubSpot partner, we provide a full range of services to support your operations team, including custom integrations, automated workflows, onboarding, training, and ongoing support services.